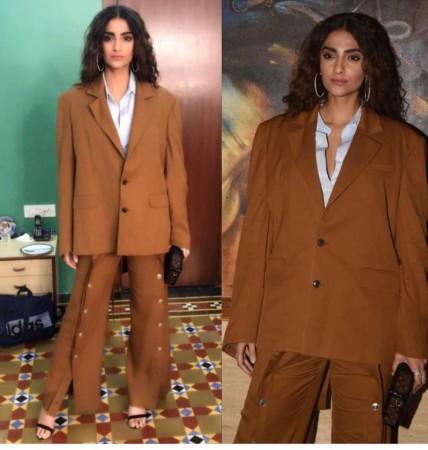 Bollywood's fashionista, Sonam Kapoor is often admired for her outfits, and now she is in news for an over-sized pantsuit that she wore at the Jio MAMI third edition.
Sonam's sister Rhea Kapoor shared pictures of the actress sporting the dress for the event. She also donned a different hairstyle, keeping it curls and loose. Rhea shared the image with the caption- "Hi I'm the president of the Big Boys Club."
While some found Sonam attire stylish, many others started trolling her for the oversized dress. But fans are not the only ones to make fun of it. Sonam's brother Arjun Kapoor and husband Anand Ahuja also joined the bandwagon.
Mocking Sonam, Arjun commented on the post saying, "I want my suit back". On the other side, Anand did something similar in his Instagram story. He posted the photo, and wrote "@rheakapoor can I borrow these after Sonam's done. Can use them at my next b-ball game also! #multipurpose BAWSE [sic]".
Soon a series of other comments started pouring in. Many found Arjun's comment hilarious, and some of them came up with even funnier lines. Some trolled her saying she wore her father's suit, and some even claimed that it is even too big for Anil Kapoor, and may fit Boney Kapoor.
Nonetheless, there are others too who found Sonam's look very stylish and praised her. A few of them even compared her look with that of Hollywood actress Julia Roberts.
Check the pictures and some of the comments it received: