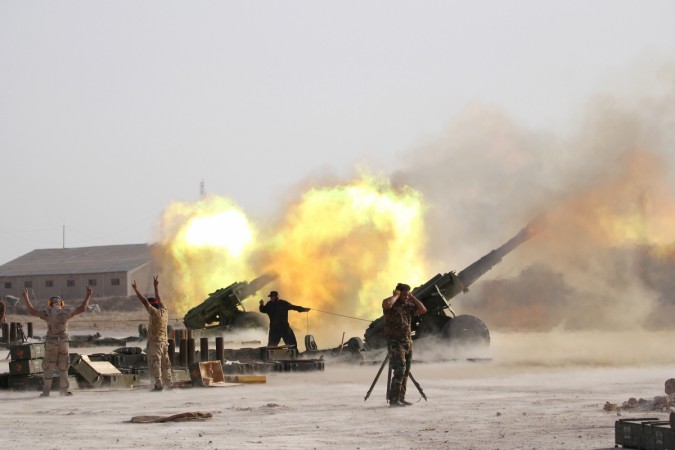 At least 130 Iraqi soldiers have been killed in Fallujah since Wednesday in attacks carried out by the Islamic State group, also known as ISIS, Al Jazeera reported. The casualties were reported after Iraqi Army with the backing of Iran-backed Shia militia and international air raids launched an offensive against the extremist group on Monday to recapture the city in Iraq's Al Anbar province.
On Wednesday, at least 10 ISIS suicide bombers targeted the Kubaisah town and the Al Sejar village, and attacked a convoy of the Iraqi Army at Amiriyat al-Fallujah, about 30 km south of Fallujah, Al Jazeera quoted its sources as saying.
The Iraqi Army, which has managed to reach the Naimiya district in south Fallujah, has paused the operation due to retaliation from ISIS. They have not carried out any assault against the extremist group for the past 48 hours, Reuters reported.
"We are here in Naimiyah district and operations are ongoing, and the advance towards the centre of Fallujah is continuing too," Al Jazeera quoted Lieutenant-General Abdelwahab al-Saadi, who is in charge of the operation in Fallujah, as saying.
The government in Iraq said ISIS is using civilians as human shields, which has slowed down their progress. As many as 50,000 civilians are still trapped inside the city without any aid since September. "It would've been possible to end the battle quickly if protecting civilians wasn't one of the foundations of our plan," Iraq's Prime Minister Haider al-Abadi said.
"ISIS have moved many families to the centre of town where they're a kind of human shield," Lise Grande, the deputy special representative of the United Nations Assistance Mission for Iraq, told Al Jazeera, adding that the civilians are living in a poor condition.
"There is widespread food deprivation, medicines haven't made it into Fallujah for months. We know that people no longer have access to clean drinking water and they're forced to drink out of the irrigation canals. We're worried that there might even be a cholera outbreak because of this," she said.
The Islamic State group has a stronghold in two major cities of Iraq — Mosul and Fallujah. It captured Fallujah, about 69 km from Baghdad, in January 2014, and gained control over Mosul in June that year.