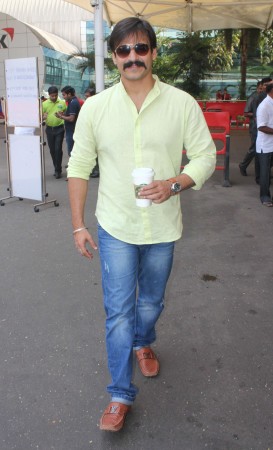 A photo of Vivek Oberoi with a newborn baby, said to be his daughter, has gone viral on micto-blogging site Twitter. In the photo, which has been doing the rounds on social media, Vivek is seen holding a newborn baby.
Several news websites published the photo of the actor with the baby and reported that the baby in the photo is the actor's daughter.
However, the baby in the photo is in fact his nephew and not his daughter. The "Saathiya" actor posted the photo on Instagram on 16 December 2012 with a message that read, "One of the happiest moments of my life! Holding my nephew for the first time! Felt sooooo special, was smiling & crying at the same time!"
He posted another photo of the baby with a message, "My sister meghna just gave birth to this beautiful angel! Healthy baby boy, Pls send him ur prayers, blessings and love!"
Vivek and wife Priyanka Alva became proud parents for the second time. Priyanka gave birth to a baby girl in Bangalore on 20 April.
"We are happy to announce the birth of our baby girl. Our family is now complete. Daughters are very special and Priyanka and I are so incredibly happy to welcome our baby girl into the world today. Both mother and the baby are doing fine and I'd like to thank everyone for their wishes," Vivek said in a statement.