Congress President Rahul Gandhi is currently undertaking a pilgrimage to the Kailash Mansarovar. The Congress boss has been sharing pictures from his journey on his social media handles including Twitter and Instagram.
On September 4, Gandhi shared a picture of the pristine Mansarovar lake on his Twitter handle and wrote that there was no hatred there.
The waters of lake Mansarovar are so gentle, tranquil and calm. They give everything and lose nothing. Anyone can drink from them. There is no hatred here. This is why we worship these waters in India.#KailashYatra pic.twitter.com/x6sDEY5mjX

— Rahul Gandhi (@RahulGandhi) September 5, 2018
The very next day on September 5, he shared a picture from the Rakshas Tal saying that the place was stunningly beautiful.
Soon after the Congress President had shared the pictures, a Twitter user who calls himself as a BJP volunteer in his Twitter bio, questioned the authenticity of the pictures Gandhi had been sharing and said that the leader had lifted the pictures from Google.
The same picture was soon shared by BJP Mahila Morcha's Social Media incharge Priti Gandhi wo questioned whether Rahul Gandhi was even present at Mansarovar or was he somewhere else.
Soon the tweets questioning the genuineness of the images uploaded by Gandhi went viral and sparked a political debate about his Kailash Yatra Pilgrimage.
Here's the truth:
We fact checked the images on Google reverse image and found out that the images published by Rahul Gandhi were absolutely real and had not been lifted from Google as the reverse image search only indicated links to Rahul Gandhi's social media accounts or links to the media stories that have been done on the same issue of him being present at the Mansarovar Yatra or not.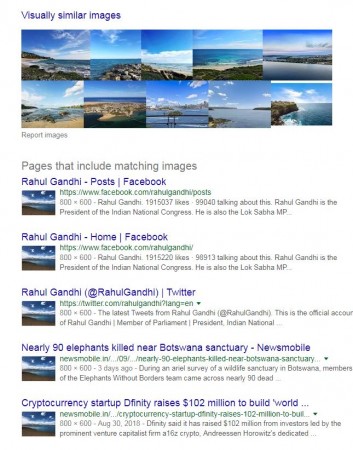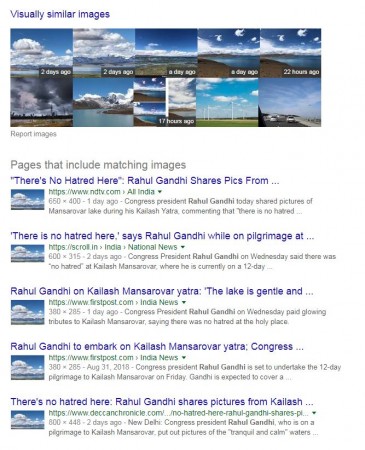 So, it's clear that Rahul Gandhi is indeed undertaking the pilgrimage and giving some serious travel goals to his social media followers and making his enemies jealous.