Although facial recognition technology has been around for years, it has never worked well on the phone. Handsets like Samsung's Galaxy S8 then sported the feature, but couldn't make it the de-facto standard as the technology out there was apparently easy to spoof with just a photograph of the phone owner's face.
Then came the launch of Apple's iPhone X. The device was equipped with Face ID, the company's new facial recognition technology, which replaced the conventional and reliable Touch ID fingerprint sensor on the tenth anniversary iPhone. While it's still unclear if Apple is permanently ditching Touch ID for contactless authentication, the company has definitely set a trend around a decades-old technology that its rivals are expected to adopt during 2018.
And, if a new report from Counterpoint Research is to be believed, more than one billion smartphones are likely to be shipped with some kind of facial recognition feature in 2020. Apple's Face ID and Samsung's Face and IRIS unlock technology are expected to lead this new technology adoption, followed by Chinese smartphone brands like Oppo, vivo, Xiaomi, OnePlus and Huawei.
Currently only Apple's Face ID generates a 3D depth map of the user's face with the help of multiple sensors in the new iPhone X. Going forward, nearly 60 percent of all smartphones with facial recognition are expected to use 3D technology by 2020, allowing "emerging technologies like Augmented Reality, Virtual Reality and Artificial Intelligence to widen their use cases," according to Pavel Naiya, a senior analyst at Counterpoint Research.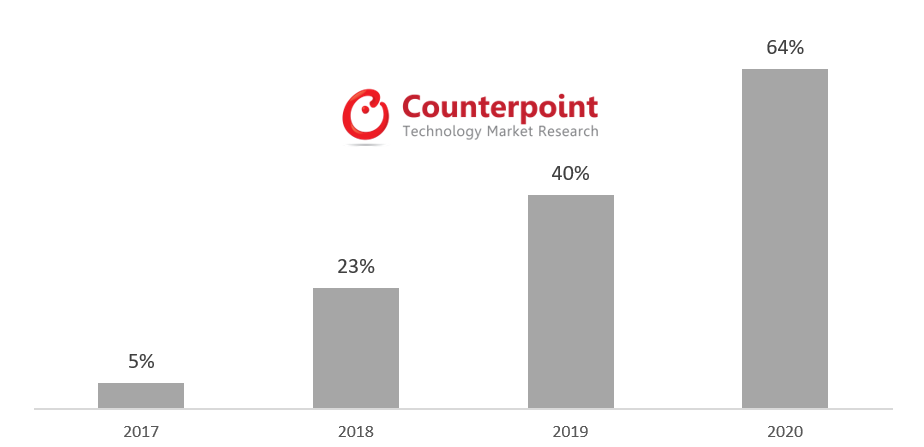 "Sensor fusion will be more relevant than ever. It will likely open a new era of partnerships between OEMs (as data providers) and chipset manufacturers (as platform providers), to stay ahead of the race to democratize new technologies. We believe, new platform players will evolve in the smartphone component ecosystem by leveraging machine learning, data processing and sensor data to provide unique features in the latest smartphones," Naiya said in a statement.
Although fingerprint sensor is considered as a more convenient way to unlock a phone than facial recognition under certain situations, the latter wins the race when it comes to advanced security.
"Although Face ID may not be the most convenient way to unlock a phone under all situations, it is well-suited for applications that require higher security, such as mobile payments, and where speed is not necessarily of the essence. In such cases, consumers may be happy to wait longer, say 2-3 seconds, in return for a much higher level of security, such as when purchasing an expensive item using their phone," Peter Richardson, research director at Counterpoint Research, said in the statement.
While Face ID-like hardware-based 3D sensing technologies are expected to be limited to high-end phones initially due to cost constraints, analysts believe that 2D-based facial recognition is likely to be featured in mid-range devices, especially from leading Chinese smartphone makers.
"The use of AI-based machine learning algorithms coupled with ever faster processors, means that the latest software-only facial recognition technologies are able to overcome many of the traditional drawbacks of 2D face recognition and could become a real alternative to Face ID, at least for unlocking phones," Neil Shah, research director at Counterpoint Research, said.