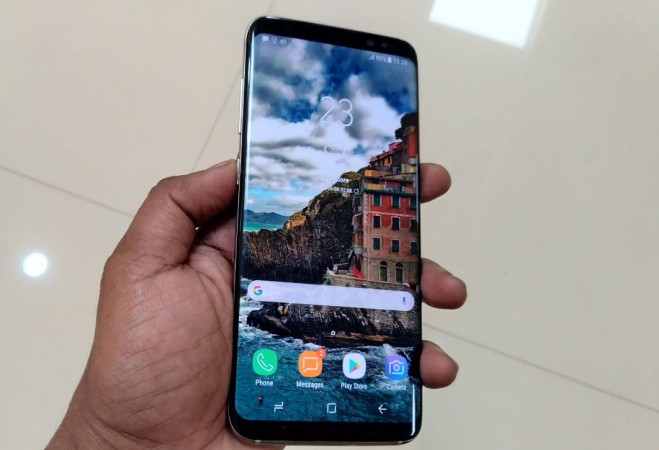 Samsung's eagerly-awaited Galaxy S9 series is reportedly coming with advanced biometric facial recognition security system that can work even in low-light condition.
An XDA Developer Forum member Maxwell Weinbach, who goes by the moniker mweinbach, a public software tester, stumbled upon a code in the Samsung Settings beta APK titled 'Intelligent Scan', which was hidden in the unreleased Android Oreo beta for the Galaxy Note8.
It apparently uses the device's Iris scanner and the Facial recognition sensor to accurately identify owner's face in almost all light condition (from bright sunny day to dark night), which is one of the shortcomings seen in current flagships Galaxy S8 and the Note8 series.
With the data available and creative graphics, he was able to demonstrate the Intelligent Scan feature [check the video below, courtesy Maxwell Weinbach].
It is believed that Samsung Galaxy S9 series, which is in all probability will come with Android Oreo out-of-the-box, will boast 'Intelligent Scan' feature. It remains to be seen if it will be on par or better than Apple's FaceID feature seen in the iPhone X.
Samsung Galaxy S9 series: Here's what you need to know
As per the recently leaked images, the Galaxy S9 (5.8-inch) and S9+ (6.2-inch) flaunt more or less the same design language of the Galaxy S8 series with Infinity Display having a dual-edged curved screen, but with some minor cosmetic change on the rear-side.
The generic Galaxy S9 is said to have just one primary shooter on the back and on the other hand, it's taller sibling S9+ is expected to boast a dual-camera sensor similar to the Galaxy Note8.
Like previous years, the 2018-series Samsung Galaxy S9 series, depending on the region of sale, is expected to come with two variants, one a 10nm class Qualcomm Snapdragon 845 (in the US, China, and select countries) or Samsung's 10nm Exynos 9810 series (in India, Europe, and others).
As for the memory configuration is concerned, the standard Galaxy S9 will be offered in two options 4GB RAM+64GB storage and 4GB RAM and 128GB storage, whereas the bigger screen version Galaxy S9+ will be available in 6GB RAM+64GB storage, 6GB RAM+128GB storage and 6GB RAM+256GB models in major markets across the world.
Word on the street is that Samsung has plans to release a limited edition Galaxy S9+ with 6GB RAM and massive 512GB storage in select markets.
As per the official Samsung teaser, the upcoming Galaxy S9 series' marquee feature will be photography. Word on the street is that the Galaxy S8 successor will have variable aperture setting options, which allows users switch between f/1.5 and f/2.4 apertures depending on the lighting environment. The former will allow the camera to absorb more light during indoor or dark conditions, while the latter can be used during bright sunny conditions.
The standard Galaxy S9 is expected to boast 12MP primary camera on the back and 8MP front-facing camera. However, the S9 Plus is said to house dual-camera, but there is no information on MP count. It will come with the same 8MP sensor on the front, as seen in the generic model.
Also read: Galaxy S9 vs iPhone X: Samsung phone may come with Synaptics Clear ID security, more advanced than Apple FaceID
Samsung Galaxy S9 is slated to make its debut on February 25, just a day ahead of MWC (Mobile World Congress) 2018 (February 26-March 1).
Stay tuned.Follow us @IBTimesIN_Tech on Twitter for latest updates on Samsung products.