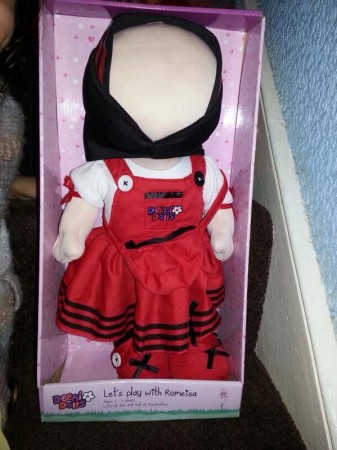 A new doll that has no facial features like eyes, nose or mouth and wears a hijab has been launched in Britain for Muslim girls.
The doll has been designed in accordance with the Sharia or Islamic law, which forbids graphic depiction of facial features of any kind.
The "Deeni Doll" costs £25 ($40) and was manufactured in China. Its creator Ridhwana B, who used to teach at a Lancashire Muslim school, said she took four years to create it.
"I came up with the idea from scratch after speaking to some parents who were a little concerned about dolls with facial features," said Ridhwana, Metro reports.
She further said that some parents do not leave dolls with their children at night "because you are not allowed to have any eyes in the room."
"There is an Islamic ruling which forbids the depiction of facial features of any kind and that includes pictures, sculptures and, in this case, dolls," she added.
To materialise the idea, she needed to have considerable knowledge as to what is allowed and what is not under the Islamic law. She said that she spoke to a religious scholar living in Leicester. The scholar guided her through the entire process of designing the product.
At present, the doll is limited to 'Romeisa', the female companion of Prophet Muhammad. Ridhwana hopes to extend the range after doing proper research.
"The Islamic range in kid's toys is quite limited at the moment with few choices. Although this project took a while, I am looking at researching other ideas in the future. I am looking at compiling a book for the Islamic upbringing of children in the future too. We have produced a limited amount at the moment but already I have had parents take up the order."