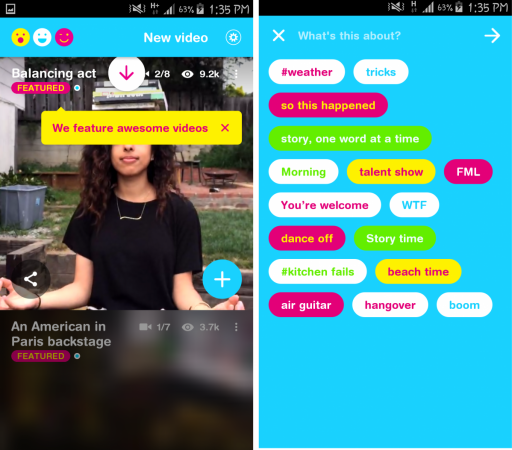 Facebook is trying new ways to keep users busy on its platform. On Wednesday, the world's largest social networking site launched a new app called Riff that promotes collaborative video-making art together with friends. Regardless of how far you are from your friends, Riff will bring you closer by letting users add personal clippings to help make a fully featured video on a particular topic.
According to Facebook, Riff was created as part of a side project, developed by a small team during their after-work hours. It features a simple interface with self-explanatory steps to create and share videos.
Get Started
Riff is available as a free download for Android and iOS smartphones on Google Play Store and iTunes respectively. After installing the app, users must connect the app to their Facebook profile. Once set-up, users can start creating videos by tapping "New Video" on top right. Users are then asked to choose a title for their video like #thedress, AprilFools, LoveStory or anything personal.
In the next step, a small window pops up with a countdown to shoot a video. Users can use both front and rear cameras to shoot a clipping as long as 20 seconds. Tap on the green arrow to share the video within the app for others to add their clipping or re-record by tapping the red icon on the left side of the window.
After you post the video, other users can add their clipping by tapping the "+" icon. Follow the same procedure to shoot a clipping and share it further. After your friends have added their clippings, you can share the video on Facebook or send it to other users via WhatsApp, email, Google+ or even Bluetooth.
Currently, Riff lacks any editing tools or options to comment or like an existing video. Users can also report any offensive clip or video on Riff.
"The potential pool of creative collaborators can grow exponentially from there, so a short video can become an inventive project between circles of friends that you can share to Facebook, or anywhere on the internet, at any time," Facebook product manager, Josh Miller wrote in the company's blog.