Facebook has introduced a new search tool called 'Graph Search' which will enable users search for content and people within the social media network.
On Tuesday, Facebook CEO Mark Zuckerberg took the wraps off the new search tool which is seen as a threat to search giants Google and Yelp. The new tool will help users seek information like "friends who live in my city," "photos I like" or "Indian restaurants liked by my friends in India".
The company said that the Graph search is "privacy aware". This means users can maintain privacy as the content can be viewed by only those people in the shared group.
"You can only search content that has been shared with you," Zuckerberg assured.
Facebook's entry into the search engine market is the company's first public offering ever since May 2012. Although the new tool is initially restricted within the social media network, the move will push Facebook as a strong rival to Google.
"This could be another reason not to use Google and another reason to stay on Facebook for longer periods," said Gartner analyst Brian Blau, Associated Press reported.
"I don't think Google is going to lose its search business, but it could have an impact on Google by changing the nature of search in the future."
Commenting on the launch of Facebook's new search tool, Zuckerberg said that Graph Search will get additional features in the upcoming days. Users can sign up at www.facebook.com/graphsearch to get access to the new tool. To search friends or any content on Facebook, users can type on the search bar which is displayed on the top side of the page.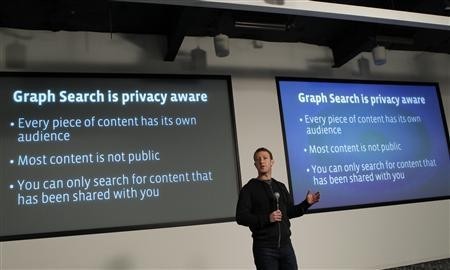 "Facebook's mission is to make the world more open and connected. The main way we do this is by giving people the tools to map out their relationships with the people and things they care about. We call this map the graph. It's big and constantly expanding with new people, content and connections. There are already more than a billion people, more than 240 billion photos and more than a trillion connections," said Facebook in a blog post.