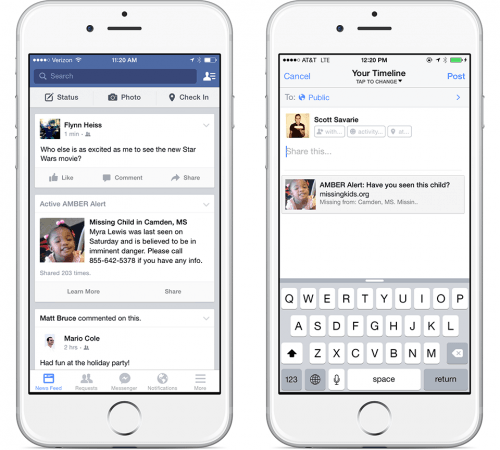 AMBER Alerts in the US are usually communicated through cellphones, highway billboards, and television and radio broadcasts. Now there is a robust way to spread the word on missing children -- Facebook. The world's largest social networking platform will take advantage of its wide network and people's addiction to the site to alert them about children who have been abducted and are at high risk of injury or death.
Facebook is making this possible through its partnership with the National Center for Missing and Exploited Children, which will help communicate the missing reports in the US in a better way. Instead of sending out limited text messages to people in a particular area, Facebook will be able to give details of the alert, such as a photo of the missing child, last know location and license plate number of the vehicle driven by the suspect.
"The chances of finding a missing child increase when more people are on the lookout," Reuters quoted Emily Vacher, trust and safety manager at Facebook, as saying. "Our goal is to help get these alerts out quickly to the people who are in the best position to help."
The AMBER Alert program was started in 1996 after the kidnap and murder of nine-year-old Amber Hagerman. While the program gets its name from the victim, it also stands for America's Missing: Broadcast Emergency Response. Sending out these alerts to people's cell phones and other means has helped recover more than 700 children, John Ryan, chief executive of the National Center for Missing and Exploited Children, told NY Times.
Facebook has185 million users in the US and three out of four American adults use the social network regularly. The new program will geographically distribute the alerts to people in specific cities and neighborhood. There will be two alerts in users' feed so they do not miss them but no notifications will be sent to the device, Facebook explained.