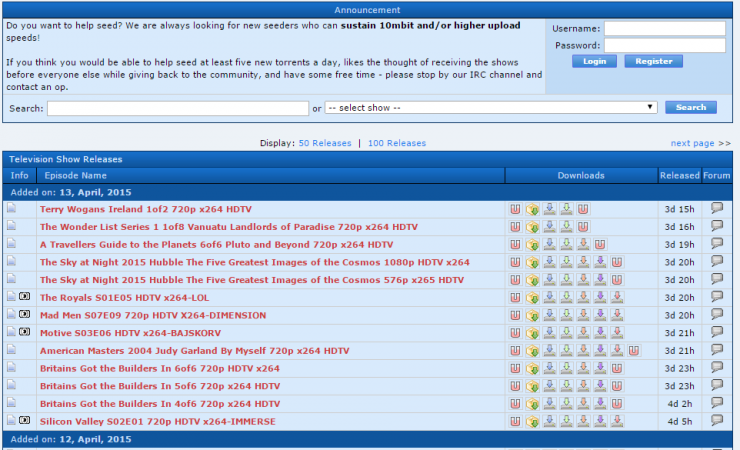 If you have been on the lookout for EZTV alternatives, we are here to help. After the renowned piracy site was put to rest on Monday, distressed internet pirates felt lost across the world. One of the most popular torrent websites, EZTV ran for 10 long years but discontinued sevices abruptly. However, there are some alternatives that try to make up for the lost legacy. Internet users can find similar, if not the same, experience from other torrent sites on the internet.
Before EZTV accepted defeat earlier this week, the popular piracy site put up a strong fight. For a brief time in April, the website stopped publishing fresh content due to some security audit of its servers. EZTV was also affected by the police raid that shut down The Pirate Bay. After recovering from legal troubles, EZTV found itself exposed in the hands of some hackers that forced the site to shut down permanently.
While EZTV's demise has saddened several internet users, who feed on the illegally published content shortly after they are aired. Here are 9 best alternatives that can help them out:
TPB is by far the most popular site for downloading TV shows and movies. All major TV shows are available on the site for downloading, including the recently-leaked "Game Of Thrones" episodes.
This is a popular go-to site for most downloaders. It offers a wide collection of movies, videos and music that should help you get the stuff you are looking for.
This site came to light for a recent leak of a copy of "The Expendables 3", for which it was sued. Although the case is still running, the torrent site offers a wide collection of movies, TV shows, and music for your recreation.
Users often turn to Kickass for downloading movies and TV shows, and EZTV.it users can head over to the renowned torrent site for the favorite TV shows.
Torrentz works differently than other torrent sites as it merely redirects users to the source from where to download the content, instead of housing the actual files. At least it gets the job done!
Like EZTV.it, Can I Stream.it offers a wide collection of movies, shows or particular episodes. The search bar helps users to find the exact content and the site will search Hulu, Netflix, Amazon Prime, Crackle, YouTube, EpixHD, Xfinity Streampix, Snagfilms, Redbox Instant, and Hitbliss for free streaming.
ETTV
This website gained its popularity after EZTV's departure. Although EETV shares a similar name as EZTV, they are not remotely connected or partners. The pirate site offers downloadable files of the latest episode for popular TV series such as "Game Of Thrones".
If you are looking for some clear DVD and BluRay quality videos of movies, YTS should address your concerns well. In other words, YTS is like EZTV for movie downloads. Some of the trending movies on the site include "Kingsman: The Secret Service", "Spongebob" movie, "Ex Machina" and more.
Broadcast The Net or BTN works on a unique model unlike other torrent sites. In order to explore the vast library of free TV shows, users must be invited by BTN. But a recent post on Reddit revealed BTN has currently stopped all of its invitations, IB Times reports.