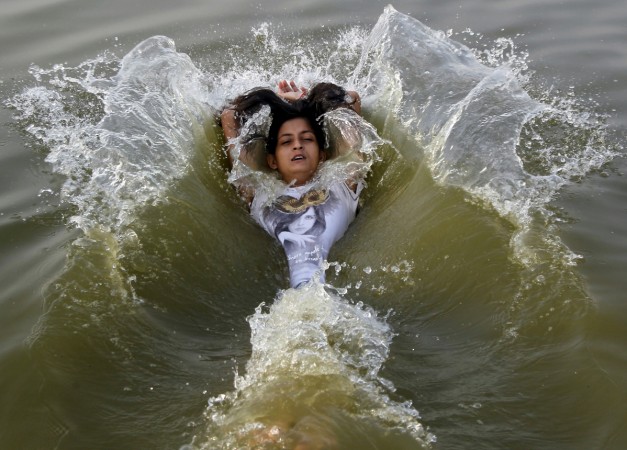 The heat wave currently prevailing in India has claimed more than 160 lives in southern, eastern and central parts of the country where temperatures 3-5 degrees Celsius above normal are being recorded.
A majority of the victims of the killer heat wave have been farmers and labourers in Telangana, Andhra Pradesh and Odisha. At least 55 deaths due to the heat wave were reported in Odisha, 45 in Andhra Pradesh and 66 heat-related deaths have been reported in Telangana, where deputy Chief Minister Mohammed Mahmood Ali said the causes of the deaths are being ascertained, the Associated Press reported.
The Indian Meteorological Department (IMD) has ruled out any immediate respite from the soaring temperatures and said the monsoon showers are still a few weeks away. According to the IMD weather bulletin issued on April 21, the maximum temperature of 47 degrees Celsius was recorded in the Titlagarh town of Odisha. Severe heat wave continued to prevail at isolated places in Jharkhand, the Gangetic West Bengal, Odisha and a few places in Bihar, an official statement said.
The state government in Odisha has ordered closure of schools in the wake of unprecedented high temperatures. The authorities have been urging people to stay indoors, especially during the day. Health advisories telling people to stay hydrated have also been issued by various state governments.
According to weathermen, this is a case of premature heat wave as such temperatures are normally recorded in May. "The temperatures were about 4-5 degrees Celsius hotter than normal for April," YK Reddy, a meteorological official in Odisha, was quoted as saying by AP.
The problems of people, particularly the farmers, have been compounded by the existing water crisis in the country. "If we go by figures, in 2000, we started with 2,000 cubic metres water per person per year. Today, we have reached about 1,500 cubic metres and in next 15 years it will go to 1,100 cubic metres. At 1,500 cubic metres per person per year itself it is called a crisis. China has declared it a crisis at 1,500 cubic metres person per year. We are likely to go below that," Shashi Shekhar, secretary, ministry of water resources, river development and Ganga rejuvenation, was quoted as saying by the Economic Times.
The water shortage and drought conditions, with crops perishing and water reservoirs drying up, have already led thousands of farmers to commit suicide.
India launched its first ever heat action plan with New York-based National Resources Defence Council (NRDC) in March 2016, to bring down the number of deaths due to extreme heat wave in high-risk regions.