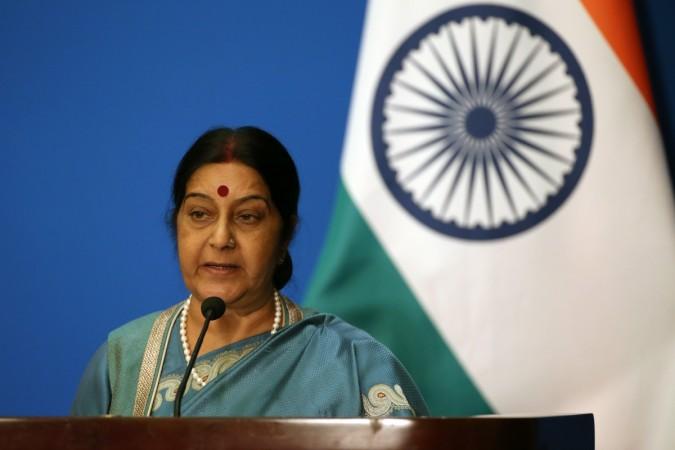 During her visit to the French capital city of Paris, External Affairs Minister Sushma Swaraj stated that both India and France were looking to strengthen their ties and focus on strategic partnerships in the fields of science and technology, clean energy and infrastructure.
Swaraj landed in Paris on June 18 and met several top leaders of France and discussed issues of mutual interest to form a strategic perspective, reports Press Trust of India.
"Our trade, capital, and technology partnerships are registering impressive growth. Bilateral trade touched Euros 9.85 billion (or USD 10.95 billion) last year. But, we need to do more to reach the set target of trade in goods to 15 billion Euros by 2022," External Affairs Ministry spokesperson Raveesh Kumar tweeted on Swaraj's visit.
Swaraj had also met her French counterpart Jean-Yves Le Drian and held long discussions over a range of topics on their bilateral relationship. "India and France are also working to shape a strong development partnership, including in the fields of smart urbanization, science & technology, clean energy, transportation, and infrastructure sectors," Swaraj was quoted as saying by PTI.
Swaraj later met Philippe Etienne, the Diplomatic Advisor to French president Emmanuel Macron, and held long discussions with him over a wide range of topics pertaining to both the nations.
The external affairs minister stated that Prime Minister Narendra Modi's visit to France in April 2015 and June 2017 played a major role in strengthening the bilateral ties.
While talking about Macron's visit to India on March 2018, EAM spokesperson Kumar said:
"Celebrating two decades of strategic partnership! EAM @SushmaSwaraj called on President of France @EmmanuelMacron. Discussed follow up to the understandings reached during French President's successful visit to India in March 2018 which infused new momentum in our bilateral ties."
Swaraj is on the first leg of her seven-day tour of four European countries. Before heading to Paris, she was at Rome and had met Italian PM Conte Giuseppe Conte during her visit.