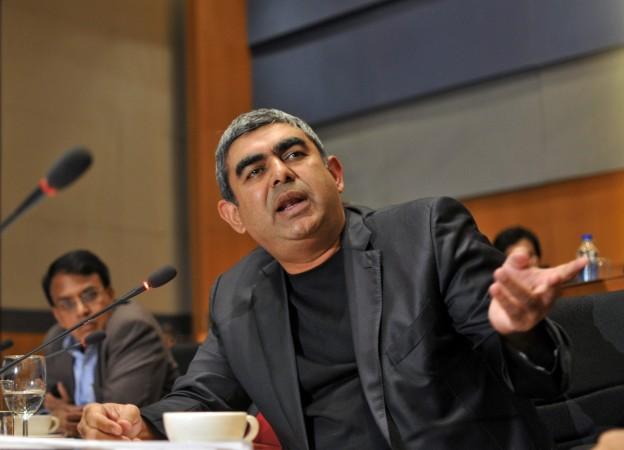 Infosys' move to realign the staff across its thousands of projects has drawn mixed response from industry experts.
India's second largest firm plans to place its experienced employees evenly across 23,000 projects currently being executed by the company. The step is aimed at reducing the high number of experienced staff in some projects and moving them to other projects, thereby rationalising the costs.
Profit margins of Indian IT companies including Infosys have come under pressure due to increased competition in the sector besides slowing demand.
Amid falling profits, many companies have started streamlining their operations and look to automate some processes to reduce employee cost. India's largest IT firm Tata Consultancy Services (TCS) recently said that it has saved about $16 million in costs by automating a part of its training programme for freshers, apart from reducing training time by almost 20%.
"Automation is certainly one of the levers (to improve profitability). But that is in the long run. For now, we have started moving experienced people to other projects," a senior executive of Infosys, told Livemint.
Once the bellwether of country's $150 billion IT sector, Infosys has been struggling to sustain its market share due to lack of innovation and high employee attrition rate.
While announcing its results for March quarter, Infosys CEO Vishal Sikka said the company aims at boosting revenues to $20 billion from current $8.7 billion over the next five years.
Infosys also aims to improve employee productivity by 50% in the next five years. The software major estimates employee productivity to increase to $80,000 by 2020, compared to the current $52,500.
In pursuit of Vision 2020, Sikka seems to have started taking steps towards efficient usage of company's workforce to improve margins, as employee costs account for a significant part of the total operating costs.
"Wage costs account for more than half of our total expenses. So if we can keep our cost low for projects, we will have better margins for the deals we take on," said the executive.
The Bengaluru-based company appears to have already realigned experienced employees across nearly 2,000 projects, while moving about "8-10% of senior executives" in existing projects to new projects.
"All commodity deals are witnessing huge pricing pressure and by right mix (of experience and young graduates on a project), we can certainly have better margins on deals," said a company's executive.
But analysts differ on Infosys' moves to optimise costs by redeploying its experienced personnel in other projects, saying that it could negatively impact the company in the long-term.
"By pulling back on senior executives in its staffing model, Infosys increasingly runs the risk of ceding high-end business and transformational deals to well-positioned players such as Accenture and Cognizant," said Rod Bourgeois, founder and head of research at US-based DeepDive Equity Research.
"In sum, Infosys's plan could somewhat buoy its margin in the near term; but this same plan could undermine its growth in the long run," Bourgeois said.
However, some analysts believe that such moves would be beneficial to the company despite some challenges.
"Infosys is pursuing a two-pronged approach that aims to reduce the number of senior executives and adopting automation as well," said Thomas Reuner, managing director at HfS Research.
"Both of these approaches require significant change management and optimized processes underpinning higher degrees of automation. Thus the road ahead is likely to be bumpy for Infosys but the vision is sound," he said.