EXO-L, the fan group of South Korean-Chinese boy band under SM Entertainment named EXO, are celebrating the reunion of Lay and Luhan on various social media platforms.
The K-Pop idols met each other during the Bazaar Star Charity event 2017 last week. They warmly greeted each other before stepping forward to address the audience. Their fans were super-excited to see them together and shared their exuberance on various social networking sites.
"They made me emotional because they can't stay serious the moment they make eye contact and it's beautiful," wrote an admirer of the musical group.
Also read EXO's Chanyeol opens up about their new album, The War
Check out other interesting tweets about Lay and Luhan reunion below:
The EXO-Ls were always excited about a reunion between Lay and Luhan. When the duo shared stage earlier this year, their followers could not stop tweeting about it.
They flooded the social networking site with images and videos of the K-Pop idols.
But the fan group recently scored high in a poll on "Which celebrity gets their image worsened because of their severe fandom?" More than 22,000 people participated in the poll organised by DC Inside.
The admirers of EXO topped the list with 4,789 votes, followed by the fan group of Girls' Generation called SONE with 1,627 votes and Wanna One's fan group Wannable with 1,550 votes, reported AllKpop.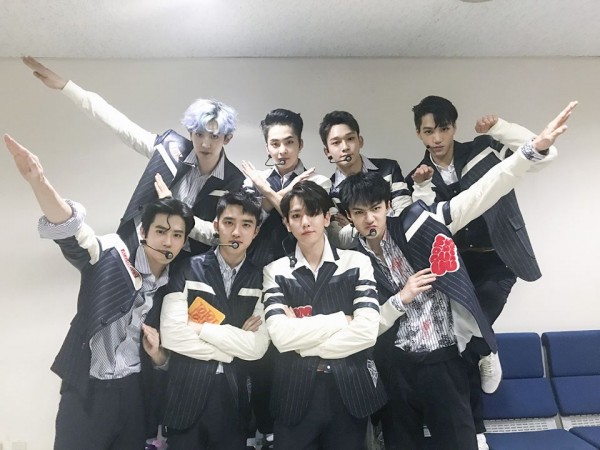 Meanwhile, EXO member Baekhyun, during an interview with High End magazine, made some shocking revelations about his journey to the world of music.
The K-Pop idol admitted that he could not make it to the finals in many auditions and was planning to give up his dream of becoming a popular singer.
But his life took a surprising turn after he met a casting agent who appreciated his talent in singing and helped him become a part of the final line-up for the South Korean-Chinese boy band.
Meanwhile, exciting news has come from SM Entertainment about EXO, and it is related to the group's plans to attend the first ever Soribada Music Awards.
The annual event will be held on September 20 from 6.30 pm KST, reported Soompi.