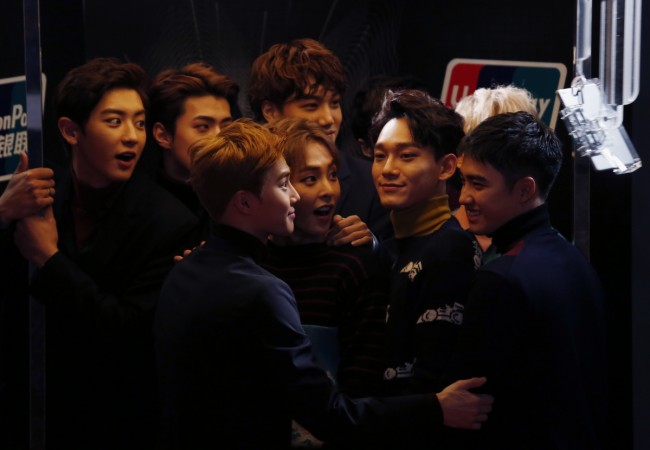 EXO member Lay's ill health is due to exhaustion and not food poisoning, as previously reported by several media outlets. The latest news suggests that the singer collapsed during the shooting of the Chinese spin-off of "Infinite Challenge" because of work stress.
A source on the sets of the Chinese variety show told Sina News that the "Call Me Baby" singer was tired after attending press conferences, filming and taking part in several performances.
Allkpop quoted the source as saying, "The night before the show recording, he arrived at Hainan, had a little bit of food, and said he wasn't feeling well overall. Then the next morning he said he could not take it any longer."
Earlier, Lay aka Zhang Yi Xing reportedly fainted when he was on his way to the restroom. The 24 year-old music artiste, who looked pale and vomited several times, was taken to the hospital and was given IV fluids. He is said to have gone back to the sets after being discharged from hospice care.
It appears that the SM Entertainment artiste is now in Shanghai. EXO's several fan groups on Twitter uploaded pictures of Lay at Shanghai's Pudong International Airport on Monday, May 9.
While Lay is still recovering from fatigue, his band's official fan group EXO-L has once again stamped its support and loyalty to the band. The fan group is reportedly angry after EXO members appeared on SBS' variety show, according to another Allkpop article.
The outlet pointed out that fans are miffed with contestants for not singing covers of EXO songs. The show included three participants who covered songs of other bands such as EXID and MAMAMOO. Members of EXO-L have alleged that "Fantastic Duo" used EXO for ratings.
One fan wrote, "They promoted EXO's episode, but it was all just bait." Other fans echoed similar thoughts.
So far, the network hasn't responded to the allegations raised by EXO's devoted fans.