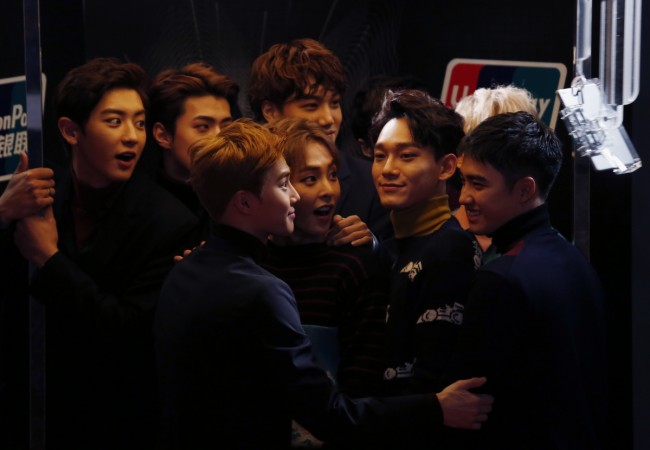 EXO fans were a tad bit disappointed during the band's recent performance in Seoul. Those who turned up for the boy group's concert, "EXO PLANET #3 – The EXO'rDIUM" were told their favourite idol Kai would not be part of the performance. EXO's band leader Suho informed the audience that Krystal's boyfriend injured his ankle again during a performance.
"Before we start, I have some bad news. Yesterday, Kai injured his leg while performing. As a result, he will not be able to participate today, and will only be here for certain parts," Suho said, according to Soompi.
While this piece of news was no doubt disturbing for those who haven't seen Kai on stage in a long time, it was nonetheless a source of humour for band members. Suho, in particular, asked the audience not to injure themselves and stay healthy and strong. He added, "And please tell your parents good things about us."
This isn't the first time that EXO member Kai has suffered a leg injury. A few months ago, his leg was wrapped up in a cast after he injured his ankle during rehearsals. As a result, Kai missed out on another concert.
Perhaps it was Kai's successive injuries that impelled EXO's band members to take jibes at him. Kai's fellow band mate Baekhyun told the audience that they wouldn't even notice the "Lucky One" singer's absence because the band has so many members.
"My grandma always tells me it's really hard to find me on stage," he added.
However, those who did feel Kai's absence were treated to a short speech by the singer himself. Kai entered the stage in a wheel chair and apologised for not performing along with the band. Although he didn't suffer a fracture, he did strain his ligaments, he said.
"I was so sad I cried a lot yesterday. My face is all swollen," Kai added. The EXO member, who has been susceptible to multiple injuries apologised to fans earlier as well. While promoting the SM Entertainment band's latest album, "Ex'Act," Kai promised to deliver more and stay healthier for his fans. Unfortunately, the singer seems to have taken the idiom, break a leg, way too seriously.