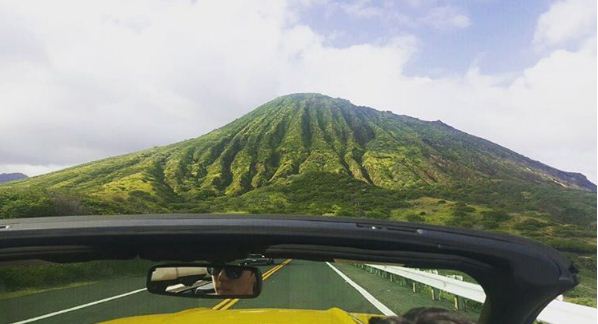 Oh Sehun, a popular member of the South Korean-Chinese boy band EXO, has been under criticism for posting a scenic photo on Instagram.
The image was captioned nice weather and it captured the attention of many of his Korean followers, who took offence to his social media behaviour. They were furious at him for appreciating nature while many people in the country are hit by harsh typhoons.
The admirers of the young rapper claimed that he is being insensitive when it comes to social responsibilities. According to them, before posting such comments he must consider the victims of harsh hitting Typhoon Chaba in Jeju, Ulsan, Busan and other parts of South Korea. A social media user even asked him, "Was it necessary to post this right now?"
The increasing number of negative comments forced the 22-year-old singer to delete his post and publicly apologise to his fans through Instagram. "The weather over here was nice, so I just posted it. I knew what was happening after I saw the news. I guess the southland is still getting hit with a serious typhoon. I hope there won't be a lot of damages," he wrote on the photo sharing platform (via AllKpop).
The post quickly went viral online with around 5,00,000 likes and almost 2,50,000 comments. In the comment section, Sehun's international fans criticised his Korean followers for being dramatic and making it a big issue.
Here are a few fan messages from the comment section of the EXO member's Instagram post:
oksitaa
He said the weather very lovely not to offend that disaster is happening because he just wanted to express the feeling. Korea town is a lot of, he also do not know about the news the hurricane. So do not overly inflated - exagerated.. strong oppa
rasybintang89
Just ignore them.. i think everyone have right to post anything what they want..coz it's your ig..i hope the disaster in korean (busan) it will be end soon. And there is no victim again.. keep fighting @oohsehun you strong, and always take care.. indonesian fans people always support you everytime.
chanhun9495
Why korean netizen are too sensitive about their idol? They are human too like you guys. So dont be like that to them. --- well i hope everything is ok for busan, ulsan & jeju island
hhhyx
I always support Oppa! Don't thinking too much. We will always by your side. It was not your fault. Love so much. But I'm so worry for you. Be stronger. Fighting Oppa!!
ranievadewi27
Omg..dear netizen dont take it too seriously,he didnt mean it.why people soo serious
shamin_shk
Dont be sad about that crazy people. exols are here