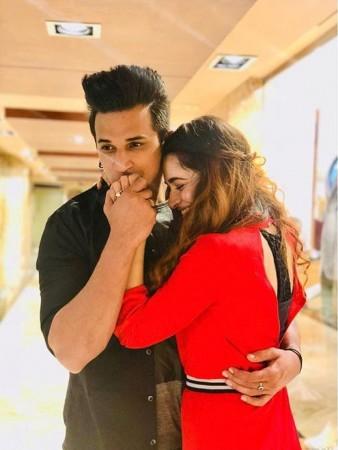 Valentine's Day 2018 is just a day away, and lovers across the world are planning to make the day special for their loved ones.
Just like any other couple, television celebrities are also eagerly waiting for the special day. The recently-engaged and much-in-love couple Prince Narula and Yuvika Chaudhary too are gearing up to celebrate this Valentine's Day.
In an exclusive interview with International Business Times, India, Yuvika shared her and her prince charming's plans for V-Day, it's importance in their lives and more.
Here are excerpts from the interview:
IBTimes: How do you both plan to celebrate Valentine's Day?
Yuvika: "Valentine's Day will be special this year for both of us. I think we both are planning to surprise each other in the best way. I'm excited to look forward to experience the special day. I am sure we definitely will enjoy the day."
IBTimes: What importance does it hold in your lives?
Yuvika: "Valentine's Day is just special day for love ones to be over loaded much with love and emotions, gifting and making each other feel special. It has been a trend these days to celebrate each occasion. But I personally feel each day is good to celebrate and make special your loved ones. And it's not that I'm in relationship so I'm celebrating. I have good memories of the day with my parents and friends too. Just the way of celebrating differs. [sic]"
IBTimes: Now that you both are officially engaged, share with us what gifts you plan to give each other?
Yuvika: "(Laughs) It's a surprise. But gonna be special. Both of us knows and understands each other's likes and dislikes. Above all I can promise him that I will remain the same and keep loving him unconditionally and will be always there for him. [sic]"
IBTimes: Will both of you continue celebrating V-Day the same way even after marriage?
Yuvika: "Marriage! That's only a ritual. We will be same and will make sure that love and bond between us keep increasing with each passing seconds..minutes, hour, days, months, years, [sic]"