Urvashi Rautela has never failed to grab eyes for the statements that she makes in media. Not only is she popular for her acting skills, but also for her smoking hot scintillating bikini pictures. Her Instagram is lit AF! Urvashi is an epitome of beauty with brains but often she gets into controversies which affect her.
Much recently she has been in news for copy captions from eminent actors and sharing it on her account and then eventually faced backlash.
Despite all this Urvashi remains calm and composed as she doesn't want to get affected by trolls.
In an exclusive conversation with International Business Times, India, Urvashi Rautela shared how she is spending her quarantine time, what is she doing to keep herself busy and which Bollywood actor does she want to marry, hook up or date.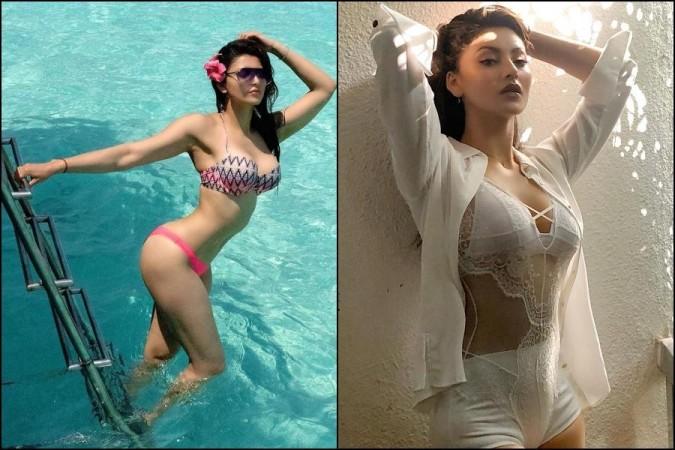 We did try asking her about the recent controversy but she chose to not comment.
On spending time during the lockdown
I am trying to be very productive, you know lockdown is not that boring you have to keep yourself occupied like you can learn a new language, you can organize your wardrobe, update your CV and if you are into writing you can also write, I have a secret orange book where I write about my feelings and its very therapeutic. One can do plenty of productive things during this time. I kind of learned a lot of recipes, I cooked and did household things. I also did a lot of meditation and organized my wardrobe. I also took out the clothes which I am not using these days. I can give it away to my friends and family or I can just donate it to my foundation 'Urvashi Rautela Foundation'. In this free time, one can also learn a musical instrument like Piano or Guitar. This is a good opportunity to try something new and to let your creativity flow.
Anything that you have learned new in quarantine
I have been taking an online master class from Natalie Portman, she is an Oscar-winning actress and she was part of my favourite films Black Swan and Jackie. She will be giving all her experience all her insights from her 25-year long carrier. Acting is a very joyful experience for me and I think she is the best choice. It's all about learning the technicality from the course, she will be sharing all the direct approaches towards acting including how to build a character map, how to research for the character, how to work with the director, how to build the physicality and consciousness to each character.
What is the secret behind your sexy bikini body?
It very important to eat clean, keeping yourself fit during this pandemic is easy, you can exercise at home. You can walk if you have a treadmill at home, running can be a good exercise and one can do skipping also at home. There are also fitness DVDs for Zumba and Yoga one can watch and practice at home. Yoga is good for the body as well as mind. Dancing is also a good exercise. It helps keep our heart rate up. Nowadays, there are workout apps that are suitable for everyone and can also take free trails for a couple of weeks. Doing household chores like cleaning and laundry is good for the upper body workout.
If you had to hook up, date, marry a Bollywood actor, who would it be?
I will marry Shahrukh Khan, I will date Hrithik Roshan and hook up with Ranbir Kapoor.
When asked Urvashi about her status copying controversy she chose to not reply as she doesn't want to get into unnecessary controversies. As per sources, Urvashi is a little upset with the ongoing controversies and doesn't want to talk about it.