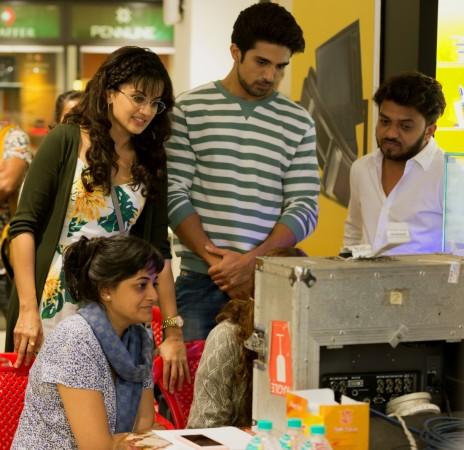 Dil Juunglee was supposed to release soon after Valentine's Day. The initial release date was slated for February 16. However, due to Padmaavat's constant changes in the release date a lot of Bollywood movies release date was affected and pushed back, Dil Juunglee was one of them.
The romantic comedy starring Taapsee Pannu and Saqib Saleem was a perfect Valentine's Day release but has now been pushed for a March release. Though the change in date took a toll on the film's marketing strategy (every promotion was planned keeping the V-Day in mind), director Aleya Sen is focusing on the positive and believes that this year the country will celebrate two Valentine's Day: February 14 and next on March 9.
Talking to IBTimes India, she said, "You cannot imagine the number of messages I got from people saying that, "Oh the Valentine's Day plan is not happening" (referring to the change in release date) and I have consoled them saying that "okay we are celebrating Valentine's Day twice this year," she chuckles.
Although the release date changed, Sen feels it might not affect movie's box office collection. "Padmaavat had a domino effect on every movie that released after it, Padman shifted, Aiyaary shifted. Yes, the dates for Dil Juugnlee's release, also went through some changes but I am not seeing it as something that may have a negative implication. Even if it has, I am probably not aware of it, as I am a new comer," she confesses.
Aleya further explains, "Our entire promotion was around Valentine's Day because it would have been the first love story of the year. Whether you are romantic or not a romantic person, the Valentine's Day is the time when you are in that mood. It would have been definitely ideal that's why the release was planned like that. But you never know, this could be a great time for us to release the movie than going for a V-Day release."
Dil Juunglee releases on March 9.