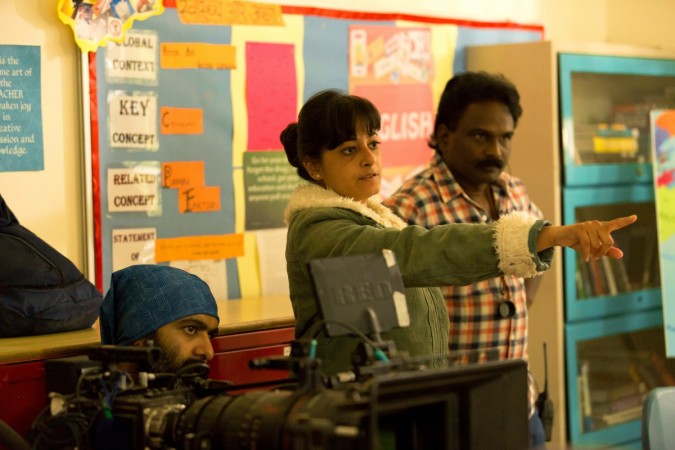 "I am a huge fan of Shah Rukh Khan," laughs Aleya Sen whose debut film Dil Juunglee is slated to hit the cinemas in less than two weeks. She gets candid with IBT India and discusses love, working with Tapsee Pannu, and her wish to collaborate with SRK and Ranbir Kapoor.
Sen, an ad filmmaker, is making her directorial debut with the romantic movie
As Aleya finishes her late lunch, with much enthusiasm, she starts to describe what Dil Juunglee's story is about. "When you are much younger, your understanding of love is different. It's from the books you read, the friends and cousins you watch that you find out what love is. When you meet your first love, you meet them with some expectation," Sen explains.
"Sometimes it works out and sometimes it doesn't. But as you grow up, your understanding of love evolves. You understand friendship, compatibility and many other factors that construct the meaning of love. Dil Juunglee is about that [comparison between] first love vs as the love we experience as we grow up," adds the director who grew up in Delhi.
In an over century-old Bollywood, love stories have been an ever-green genre. Every director has narrated love stories in their own way. Aleya is no different. She dived into her first Bollywood venture hoping to give the audience her perception of love. "Your love story and my love story can never be the same," she says. The movie is made from a third person point of view, with comedy playing a key story-telling tool.
Aleya reached out to Taapsee Pannu and Saqib Saleem for the lead roles. "I did a music video called Tum Ho Toh with the duo. Tapsee and Saqib's bond was so magical, they had a natural chemistry," she recalls while explaining that it was their chemistry and bonding that prompted Aleya to get them on board.
"Taapsee is a director's baby. The best part about working with her was that she surrendered herself to understanding the character that I was depicting. The girl in my film is smitten by love, who just loves to be in love. To watch Taapsee surrender to the story, to the character was amazing," Aleya says.
About Saqib, the director says, "He is like an energy ball", she laughs, "You could just hold him".
While she is happy to have worked with the two actors in Dil Juunglee, Aleya expressed her wish to work with the king of romance, SRK. "Ab kya karu (What do I do), he has taught the entire generation to romance. He's made women like me believe that a perfect man is there," she chuckles. Her wish to work with Baadshah of Bollywood is yet to realize, but Aleya has directed Shah Rukh in an ad film in the past.
"I am a big fan and I would really like to work with him, for sure," she adds before listing Ranbir Kapoor in one of the actors she wants to work with. "I would really like to work with Ranbir Kapoor, he is also my favorite."
Aleya is currently focusing only on Dil Juunglee's release. Also, she has a couple of scripts ready on which she will start working soon.
Dil Juunglee is slated to release on March 9.