Hardik Pandya has played some swashbuckling innings in his short international career, and is gradually becoming one of the feared batsmen in world cricket. The all-rounder does not mind going hammer and tongs from ball one, clearing any ground with utmost ease.
The Baroda man has already been labelled as a finisher by many after he helped India finish games with his batting skills in the last couple of months. With this, Virat Kohli should be pleased with two wonderful finishers in the team - Pandya and MS Dhoni, with the latter having done the job for India in the last 10 years or so with roaring success.
With the both players forming an integral part of Team India, Dhoni and Pandya have been compared by several cricketers. But, former India cricketer Karsan Ghavri does not want the two to be compared as Dhoni is miles ahead and explained that as a finisher, the Jharkhand man is 1,000 times better.
"Please do not compare Dhoni with Hardik Pandya. It is true Pandya has a bright future ahead of him, but he is just climbing the ladder of India cricket, and Dhoni has proved it for so many years," Ghavri told International Business Times, India.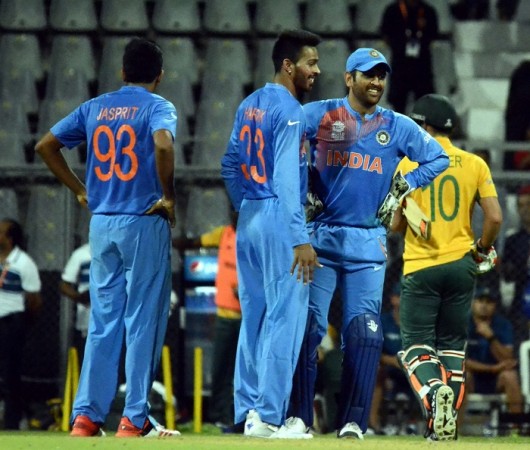 "There is no competition when it comes to Dhoni's finishing ability. He is 1,000 times better finisher than Pandya. Even today, Dhoni can change the game in a matter of four or five overs only."
One has to understand the art of finishing matches does not mean hitting sixes and winning games for India, but also winning matches from impossible situations by playing the anchor's role and steering the team home, which Dhoni has done in the past.
Dhoni, one of the greatest India captain ever, has achieved almost everything in world cricket, including some memorable wins like World T20 2007 and World Cup 2011. Besides this, his skills with the bat have been phenomenal, scoring more than 15,000 runs in 474 international matches for Team India.
Compare this record with that of Pandya, who has just played 48 international matches for India across all formats, one understands why Ghavri does not want to compare Pandya with Dhoni.