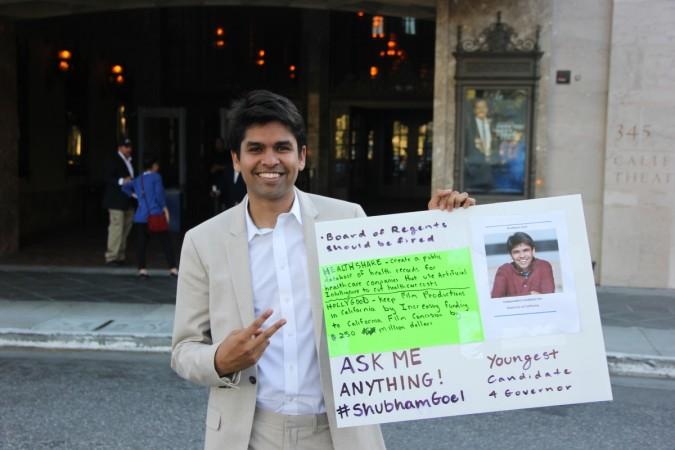 While most 22-year-olds we know are in college enjoying life and getting a degree in all kinds of subjects or just starting out with new jobs and learning to attain a work-life balance, here's someone who might just end up becoming the next governor of California in the United States.
Yes, you heard it right! Meet Shubham Goel, a 22-year-old Indian-American techie who is in the running to become the next governor of California succeeding Democrat governor Jerry Brown. The Democrat has been in office for eight years – two four-year terms – and Shubham believes he could be the next governor.
Born in California to Karuna and Vipul Goel, Shubham was raised in Central California and Los Angeles. He currently lives in the San Francisco Bay Area after graduating from the UCLA in June 2017, with a major in Economics and a minor in Film and Television.
While he works as a Virtual Reality Manager in San Francisco, and has even worked with Dream Out Loud, a non-profit that raises awareness about the water shortage for elephants who have escaped poachers and now live in sanctuaries in Botswana, he may soon be the governor of California.
Shubham is up against quite a few well-known names such as Democrats Gavin Newsom, Antonio Villaraigosa, John Chiang, and Delaine Eastin and Republicans John Cox and Travis Allen, but believes that he could make a difference to the state.
Speaking of why he wanted to run for the post instead of focusing on his career in virtual reality, Shubham tells International Business Times India: "I have first hand seen how all people in California are struggling in the state. I work at a virtual reality company so I see how all of this new technology can implement feasible and innovative solutions to our problems.
I want to fix the state for all people and want to help increase representation for Indian Americans in statewide decisions and help get our voices heard more."
He explained that he wanted to set an example and send the message to youngsters that one doesn't need money or fame to make a difference, and all that one needs is "conviction and grit."
So what makes Shubham stand out among others who are in the running apart from the fact that he is just 22 and youngest candidate? Well, unlike others he neither has political affiliations nor a campaign team. And has he raised any funds? "Zero," he tells IBTimes India. "I decided since the beginning that I won't be raising funds for my candidacy as I believe that special interests and campaign donations are a big reason for the inefficiencies and slowness of our state legislations and policies. I don't have an active campaign team nor do I want one!"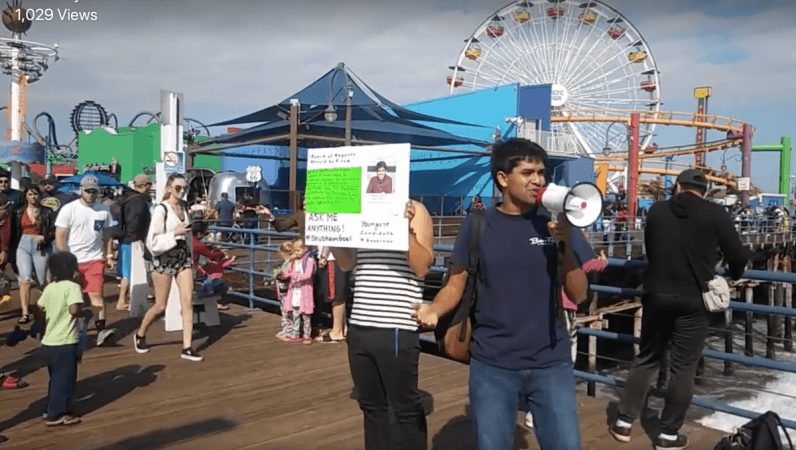 In fact, it is heartening to see him talking to passersby and campaigning on the streets over a megaphone.
"Yes, a big part of my campaign is talking to the people of California with my megaphone. People have been very enthusiastic and receptive of my megaphone speeches. I think they are receptive to it since I try to be myself and let them get to know my platforms and why I decided to run very clearly in my speech. There's no campaign team, big money but just me, so it's easy for the people to see my message."
And what's his agenda? Shubham tells us:
GovBook: All office holders in California will have a transparent digital profile on the governor's website. This will show their economic interactions for the past 10 years with regard to money and donations they have received from any sources, including the people who control them and investments they currently have.

It will also include the platforms they advocated for during their election cycle and will comment on their progress toward completing them. This will keep all of them accountable with their decisions, corruption and ineffectiveness and give the people of California a much better idea of who they are being represented by.

Virtual Reality: Introduce Virtual Reality into our educational system in California as the technology will rapidly enhance our youth's learning and development. With mobile VR, the cost is going down and quality going up so Virtual Reality is an innovative step for us to innovate in our schools and improve the curriculum.

Board of Regret (Regents): The governor of California should no longer have the power to appoint the 18 regents for the nine UC campuses. The members of the Board of Regents will be elected by the students of the UCs. This will make the Board more accountable, transparent and representative of the UC students and campuses they reside over.

This will fix disturbing issues like Janet Napolitano, the president of the UC system, hiding $175 million last April from students, the board mishandling funds and regents being financially corrupt.
Shubham also spoke about the India-American community in California and said that it was "so great and pivotal to the success of America."
He believes that it is now time that the state hears the voice of the community and knows that Indian-Americans also have an opinion and a say in when it comes to decision making in the state.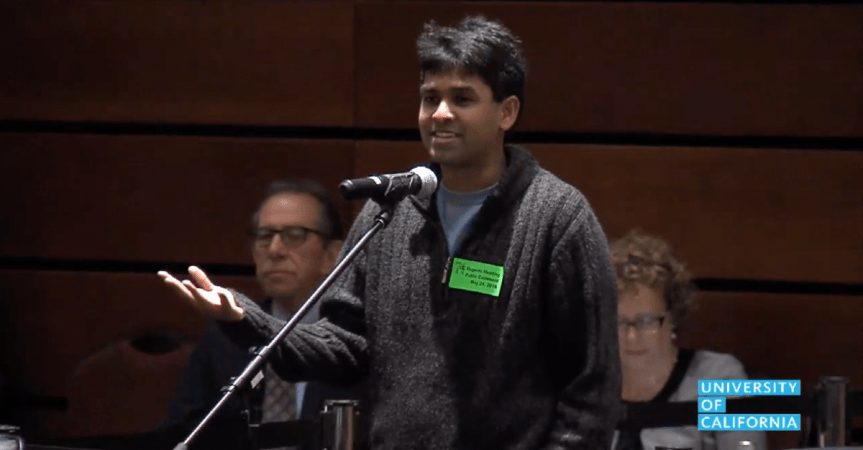 "Also we must stick together and help out with fixing the issues in India as well and helping the country we come from in innovative ways that utilize technology," the 22-year-old adds.
While passersby have clearly got to know Shubham and what his message and plans are, did he learn anything from the campaign? "We can never give up on ourselves and our goals," he says. And how did he learn this you ask? It's quite an interesting story.
The big debates in California only let the top 5 polling candidates debate at their stages and unfortunately many of these polls are indicative of which candidates have the most money.

"So I went to 3 debates to protest to be able to speak including the Asian Pacific American Debate in Pasedena, The California Theater Debate in Downtown San Jose, and the San Jose State University Debate. 2 of the debates did not let me speak but I was able to use grit to let the moderator at the San Jose State Debate let me speak."
And if you thought he is someone born and raised in California and has lost touch with his roots, he'll tell you that you are mistaken. His parents are from Lucknow and Meerut and Subham, in fact, visits frequently and says that these trips keep him "strongly connected to my Indian roots and origin."
The general election is scheduled for November 6 and the primary will be held on Tuesday, June 5.