Gautham Menon for the first time has teamed up with Ajith for "Yennai Arindhaal", a commercial drama in which he has tried to present Ajith in his style. The ace filmmaker made time to talk with the IB Times India and here are the excerpts from Part 1 of the interview:
How enriching was it working with Ajith Kumar?
I think I have spoken enough about that in the sense we work with different films with different actors and every movie gives you an enriching experience. When it comes to Ajith, he is a friendly guy and at the same time he makes you comfortable. There is no pressure on you even though he is a big star. Anybody will feel comfortable working with him.
Tell us how it all started and how the idea of "Yennai Arindhaal" was born.
When AM Rathnam expressed his wish to work for a movie starring Ajith, I was already into Simbu's movie after Surya's movie was shelved. I met Ajith to discuss about the film and he was very clear about his plans. I had to take immediate decision at that point and I said yes. Later, we talked about ideas and scripts. That's how it all got started.
Have you written the script keeping Ajith in mind?
Normally, I have scripts for particular heroes. I worked on "Yennai Arindhaal" script only after Ajith came on board. Sometime this works better because we know who is going to act in the movie.
Could you please throw light on "Yennai Arindhaal"?
As always, my latest movie is all about the characters. It is the journey of a character. The story begins from a 13-year old and it is all about what life makes him. Like, people are born and every individual is destined to take a route. But how the course of life changes in one second and what life makes something out a man form the crux of the story. I am following the journey of this man and people who he meets in his life. There is a thin line between good and bad things. The story tells you whether he goes this side or that side.
Rumours have it that "Yennai Arindhaal" is a revenge drama.
I would like to call it as a commercial drama. It has got emotions, sentiment, thriller, love and action.
Ajith is an A-list actor and has a huge fan following. Were you under pressure to keep in tune with his image?
Not at all. The moment we decided to work, Ajith told me 'I want to work in your kind of movie.' He does not like over-the-top dialogues or portrayal of him like a messiah. So, it becomes easy for me to make an emotional movie. Even though there are action and larger-than-life moments, he will be very real and there is nothing like film. At the same time, we have very a simple treatment to the story, which is quite endearing. We are curious to know how people see him in a new light.
However, even if I was tempted to include scenes that his fans love to see but he clearly told me, 'don't do anything to satisfy me or my fans. Let us only do what will work for the script.'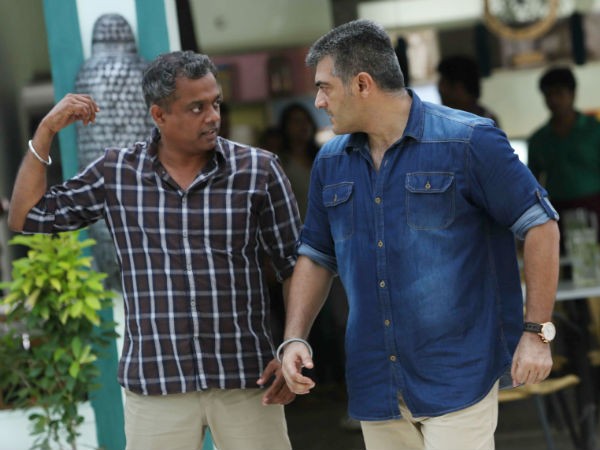 How was it working with Trisha and Anushka and what are their characters about?
They are wonderful people to work with. In "Yennai Arindhaal", they are the people who Satyadev meets in his life and the two women make big impact on his life.