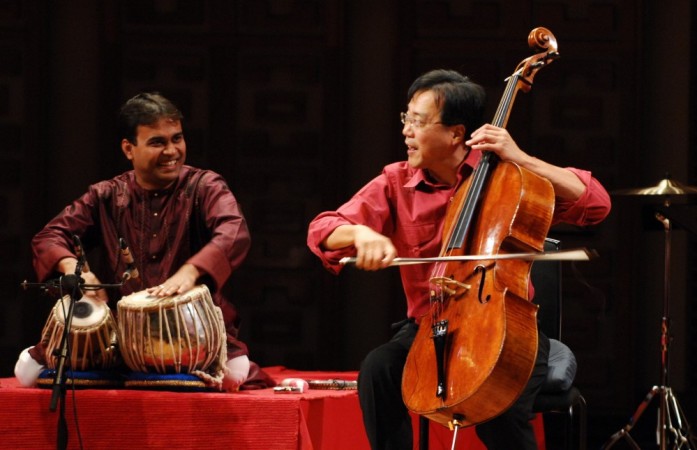 Tabla player Sandeep Das made India proud when he won the prestigious Grammys 2017 in the World Music category for Sing Me Home album. The Grammys award has reaffirmed his stand that Indian classical music stands out in the competition with the west.
Also Read: Grammys 2017 winners list
In an exclusive interaction with International Business Times, India, Sandeep Das talked about his big win, his equation with Yo-Yo Ma and his India connection.
Here are the edited excerpts of the interview:
International Business Times India: This was your third Grammy nomination. How does it feel to win the prestigious award?
Sandeep Das: Everybody is saying that I am third time lucky. But even then, in my guts I knew I will win Grammys sooner or later. There is a time for everything, and this was supposed to happen now, and it did.
I feel very happy. I feel happy that our culture and tradition stand out in the best of competition and in any other circumstances. I feel proud to represent our country wearing a Kurta and Pajama and not wearing a suit and tie, which the younger generation would have done. The way this younger generation behave is very sad. We try to ape west, whereas they value the genuineness of our culture and tradition.
IBT: Tell us about the album Sing Me Home and your equation with Cellist Yo-Yo Ma
Sandeep: I have been working with Yo-Yo Ma for last 18 years. I played with him when he came to New York for the first time and it never stopped. He is the greatest human being I have met in my life. Music is just a small part of him, and he is much more than that. He is the greatest, nicest and humblest human being I have met in my life. I have learned tabla from Pandit Kishan Maharaji and Shri Shiv Kumar Singh, but I learned what a human being should be from Yo-Yo.
IBT: You won the Grammy in the World Music category and sitarist Anoushka Shankar was also nominated in the same category. Your thoughts?
Sandeep: Music is not about winning or losing like sports, where you know, I beat you or vice versa. Even if she had won, I would have been very happy for her, since someone representing our music would have won. I hope she is happy for me.
IBT: Do you think classical music is not that big in India?
Sandeep: It's not that classical music is not big. Classical music is classic and it's not meant to fill a stadium and people get confused with that. A pop music is called popular music because everybody will go to that, but anything classic or art will only be followed by a certain kind of people. There is nothing wrong with that, but where the music is headed in general. The younger generation is not ready to invest time in learning and practising from one musician. All they want is to make a band and play at concerts or hotels and restaurants. We are headed in the wrong direction.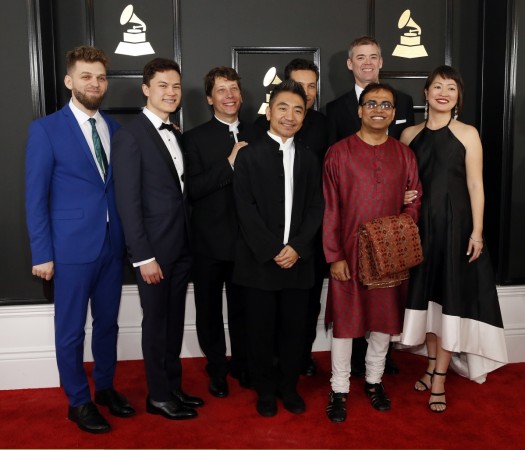 IBT: Why do you think the young generation is heading in the wrong direction?
Sandeep: It is a combination of many things. I would say media is partly responsible. Bollywood and cricket get a wider coverage, whereas topics like arts miss out. It's a sad state of affairs. The younger generation thinks becoming a cricketer gives them more coverage, and get drawn to it. The society starts to follow. The reality shows are also a case in point. This is why the next generation wants to jump on the bandwagon and become famous without investing.
IBT: Tell us how different is the classical music scene in the west and in India? Do you think there is more opportunity in the west than in India for classical music?
Sandeep: Not really. As an Indian classical musician, I am able to collaborate with the top most musicians of the world because I really invest time and value. It is important to know one thing well enough before you brand out and collaborate with someone else. And the good thing about the west is that they are ready to listen to you even if they don't know what it is about, whereas in India it is not the case. In India, if a north Indian musician is playing then the south Indian won't go, if a concert has been organised by a Bengali association then Marathi association people won't go.
Talking about the opportunity, the good thing is people in the west will come and listen to you. It is like trying a dish. They will come and try the dish even if they had not had it before. But in India, people just say they don't like the dish and won't eat it. That's why sometimes we lose out.
IBT: What do you think about the next generation tabla players and who according to you is the most promising talent in India?
Sandeep: There are plenty of talented people in India. People are playing very well and that includes people of the next generation. One of the most promising tabla players is my Guruji's grandson, Shubh Maharaj, who plays really well. Then there is Anubrata Chatterjee, the son of famous tabla player Anindo Chatterjee. These two are playing very well and their names come to my mind when I think of the most promising talents. But I am sure, there are several other good tabla players in our country and I am proud of everyone.
IBT: Tells us about your connection with India. How often do you visit?
Sandeep: I was in India last year, but I can't visit often as I am busy here. I can't leave concerts and projects to visit India, but I miss my country, the food, especially Kababs, and I miss the good people. My daughters are rooted in Indian culture. My eldest daughter Sakshi is an Odissi dancer and my youngest take tabla lessons from me and is very good at it.
IBT: Are there any plans of working in India or Bollywood movies?
Sandeep: I am not a very studio person and I like to perform on stage live in front of several people. And when I compose music, I compose it with total freedom. So if there is something good and if I am asked to compose something from start to end, I might do it; but it has to be something meaningful.