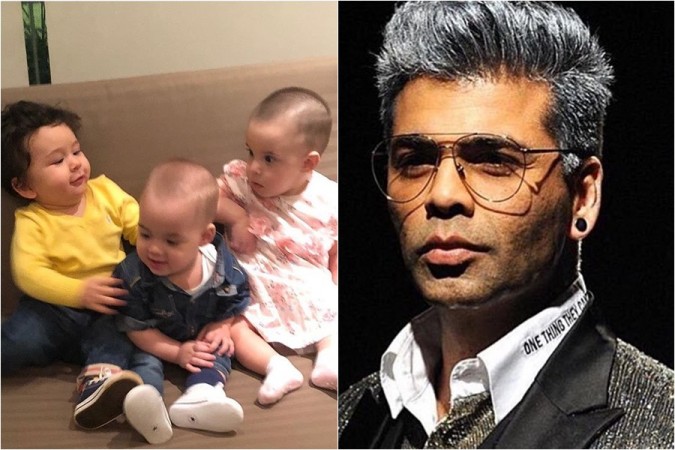 Mumbai-based photojournalists on Wednesday (February 7), boycotted Karan Johar's twins Yash and Roohi's first birthday bash, accusing the filmmaker of making poor arrangements for mediapersons.
A source exclusively told International Business Times India: "Yes, the media has boycotted the bash after they failed to keep their promise. An official invitation was sent to all the photojournalists informing them about Karan hosting a birthday party for his kids at 4 pm at his home.
"The photographers were told a day in advance that they would be allowed to enter the building and click pictures of the guests and their kids upon their arrival," the source said. This is a usual arrangement celebrities have with photojournalists.
"But when they arrived at the venue, the guests drove their cars directly into the building without even stepping out for a second for the photojournalists," said the source.
KJo had invited his friends like Kareena Kapoor, Rani Mukerji and Tusshar Kapoor along with their tiny tots to the party at his home.
The source further revealed that the photographers even complained to and argued with Karan Johar's publicists about the mismanagement, but to no avail. And when they learned that they would not get a chance to click proper pictures of the celebrities, they collectively decided to boycott the entire birthday celebration.
ALSO READ: Karan Johar finally shares first picture of his babies -- Yash and Roohi [PHOTO]
Karan Johar became a proud parent on this day last year. His twins – Yash and Roohi – turned one on February 7.
Roohi and Yash came to Karan Johar's life through surrogacy. Last year, in one a chat show, Karan described his emotions when he held his babies for the first time.
Recently, the filmmaker read out an emotional letter on Shah Rukh Khan's TED talks India: Nayi Soch. He had penned it for his twins Roohi and Yash.
"As you grow up, people will try to label you according to color, looks, religion, popularity and money. People will gossip about you, but know that no one can label you. Just because you are different, it doesn't make you wrong. You may be treated differently in school; mothers of your classmates will come to drop them, but you will have your father to take care of that. While most of your classmates' mothers will make a WhatsApp group to discuss your homework, I will be the only father in it," KJo read from the letter.