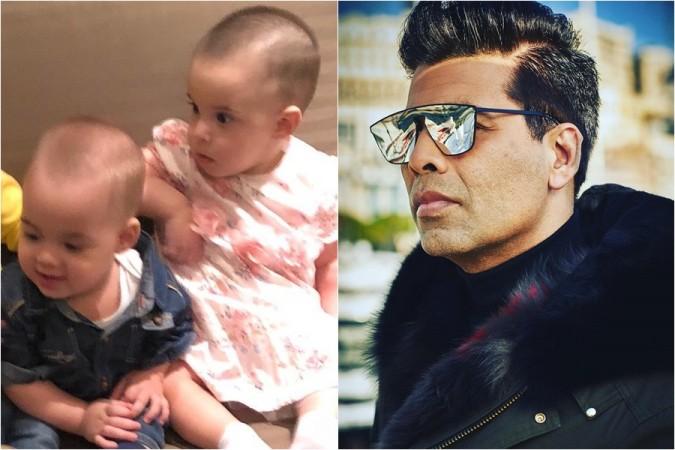 Karan Johar recently read out an emotional letter on Shah Rukh Khan's TED talks India: Nayi Soch. He had penned it for his twins Roohi and Yash, who were born via surrogacy in February this year.
The filmmaker, whose life got new meaning with the birth of his twins, stepped into a new phase of his life by taking up the role of a father. He gave his babies an important lesson in his letter: to live to their life to the fullest without being bothered by what people say or think about them.
"We live in an industry full of stress and chaos, so living a healthy life and expecting less from our peers is very important. Life is a gift and we must live it to the fullest without thinking about 'duniya kya kahegi'. It is necessary to be practical in life but there's no harm in dreaming big. Because life is a big dream after all," KJo read out an excerpt from the letter.
Karan is well aware of the problems his twins will face growing up, as the filmmaker is a single father. He said in the letter that they might get treated differently in school because they are different. But the doting father assured them that he would always be there to take care of them, fulfilling the duties of both their mother and father.
"As you grow up, people will try to label you according to colour, looks, religion, popularity and money. People will gossip about you, but know that no one can label you. Just because you are different, it doesn't make you wrong. You may be treated differently in school; mothers of your classmates will come to drop them, but you will have your father to take care of that. While most of your classmates' mothers will make a WhatsApp group to discuss your homework, I will be the only father in it," KJo read out from the letter.
"It's a blessing to become a father. You both make me want to be a better person," he concluded.
"Just like any other parent, I too have a lot of expectations from you (Roohi and Yash). This expectation is necessary because we build our foundation based on them. Your grandmother (Hiroo Johar) has told me and will also tell you that bookish knowledge is not everything. On the other hand, your grandfather (Yash Johar) always told me to listen to my heart no matter what," Karan said on Shah Rukh Khan's show.
The episode of TED Talks India Nayi Soch featuring Karan will be aired on Sunday on Star Plus.