Jitin Gulati, who shot to fame with his role as Dhoni's brother-in-law in MS Dhoni - The Untold Story, is just another middle-class boy from Delhi who left his eight years of banking job to pursue his passion – acting. He had come down to Mumbai, began modelling and eventually bagged roles in films like Warning 3D, MS Dhoni and web series such as Inside Edge and 24.
And now, the actor is all set to play a parallel lead in Sony TV's new show Prithvi Vallabh where he will showcase his negative side on the screen.
International Business Times India caught up with Jitin over a candid chat. He spoke at length about his upcoming TV show Prithvi Vallabh and how working in MS Dhoni - The Untold Story opened doors for him in the industry.
This is a two-part interview. Click here for the first part where Jitin speaks about why he left his banking job to pursue acting, his struggles when entered in the city of dreams and how he escaped from the dirty bylanes of Bollywood.
Tell us about your role in Prithvi Vallabh.
The story is basically about two warring kingdoms, called Malwa and Badami. I play the king of Badami. The focus point of my life is my sister. Our parents were killed when we were very young, so my sister is my life. And everything in my life is because of her and how my journey towards taking care of my kingdom is the central plot.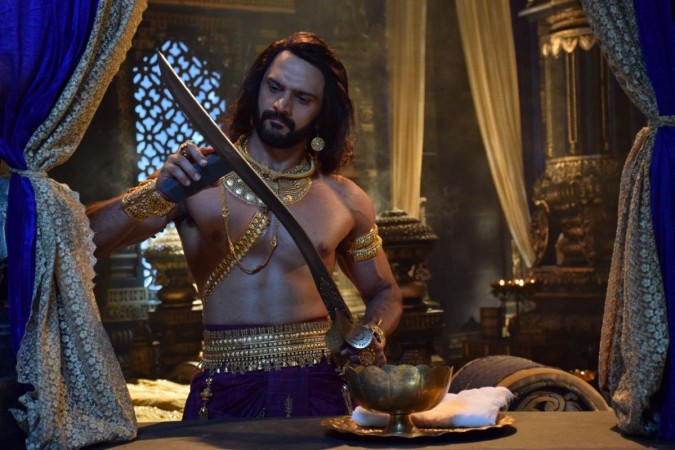 It's actually a story of 9th-century king Tailap in India during Chalukya dynasty, which is right now there in Karnataka. It's a period drama.
Playing historical character comes with lots of challenges. Tell about it.
That's the challenge of being an actor because there are many roles you want to play onscreen. Warrior King was one such role for me. This period drama has helped me achieve this dream. I watched a lot of documentaries and films regarding this time period as a part of preparing my character. I also learnt horse riding and sword fighting for it.
You look quite beefed up. What was your regime to achieve that muscular physique?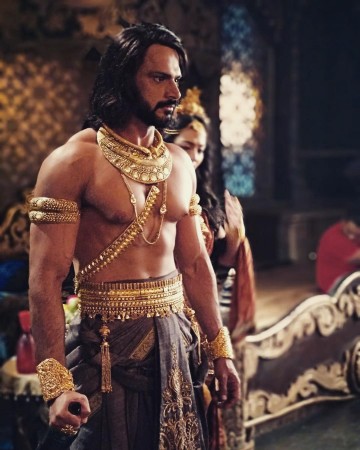 I have put on about 10 kg for this part. I had told my trainer that I need to put on weight to look authentic for my part. I had just two months time.
It was basically a mix of strength training, a lot of training of muscles and taking complete care of my diet. My calorie intake was 2400 calories per day, inclusive of carbs, proteins and fats. And in two months I had gained up to 7 kg and till now I have gained 10 kg.
So how did you feel when you bagged your first film?
I was ecstatic, more so when I went through the entire process of script reading, preparing for my role, going to different places to shoot. I shot my first film Warning 3D in Fiji. So for me, the process is far more important than the outcome. I am honestly not that excited about watching myself on the screen. I have only dreamt of doing a role, shooting in a studio and being in front of the camera. When I was in the bank, I never thought I belonged there, but for the first time in my life when I was on a film set, I knew that this is where I belong to.
You became a part of a 100 crore film MS Dhoni - The Untold Story. Tell us about it.
I had a lean phase post my first film, as it came out late. Nothing was working out for two years. And then MS Dhoni - The Untold Story happened! Post the film people started noticing me and things started looking up. And having a successful film in your kitty definitely helps. MS Dhoni - The Untold Story was definitely a huge step in my career and very grateful to the casting director Vicky Sidana and the director Neeraj Pandey for giving me the opportunity.
You played a gay character in short film Sisak which was touted as India's first silent LGBTQ film. Were there any apprehensions?
Not really. I don't think in that way actually. My only apprehension whenever I am doing a project is who is the director and what exactly I feel about the project. I go with my gut feeling and if I feel right I do it. I am an actor and I don't have apprehensions about these things. So if a role is good, the director is good, I know something will come out of it.
So now that Sisak is going to Harvard, how does it feels?
I wish I could go. I'm very excited. I am shooting for Prithvi Vallabh so I cannot go because going to Harvard is a ten-day fair. We all believed in the project. Right now we have a lot of resonance of sort in today's time and political scenario and we are constantly fighting for our constitutional freedom at different levels. And I am very happy that a short film that we made over a period of three days and barely earning money has reached so many places.
Now, what kind of stories are you targetting from here onwards?
I am looking at exciting humane stories that need to reach out to people. There are very exciting people and stories all around us and I am not just saying biopics but also stories of common men, trials and tribulations and their lives. I would love to explore genres like thriller, sci-fi or historical or even a period drama like Prithvi Vallabh.
Now that you are a part of the entertainment industry, will it be right to say that you have come close to your dream?
I would say I have just scratched the surface of my dream right now. The dream is to do good work across mediums. And so for me, success would mean I am doing the kind of work that I want to do. My dream is all about having a happy professional and personal space.
This is a two-part interview. Click here for the first part where Jitin speaks about why he left his banking job to pursue acting, his struggles when entered in the city of dreams and how he escaped from the dirty bylanes of Bollywood.