Kings XI Punjab had gone for a complete revamp of their squad ahead of the ongoing Indian Premier League (IPL) season. The likes of Glenn Maxwell, Hashim Amla, Eoin Morgan, and Shaun Marsh, who had been part of the squad over the last few years, were let go before they went on a shopping spree at the two-day auction in January.
Among the few names who were retained by KXIP this season was David Miller. The big-hitting South African star, who has been an integral member of the Punjab-based franchise ever since he joined them in 2011, was bought for Rs 3 crore using their Right To Match card.
Nonetheless, Miller, who had captained the team in 2016, hasn't been getting enough game time this season as captain R Ashwin faces a problem of plenty, especially when it comes to their overseas talents.
The likes of Miller and highly-rated Australian all-rounder Marcus Stoinis have played only two matches each at the midway stage of the tournament.
Miller concedes that IPL can sometimes be a frustrating experience for overseas players but insists he is enjoying his time with the KXIP camp. The man who holds the joint record for the fastest T20I century is leaving no stone unturned when it comes to preparation as he wants to be ready to contribute whenever he is given an opportunity.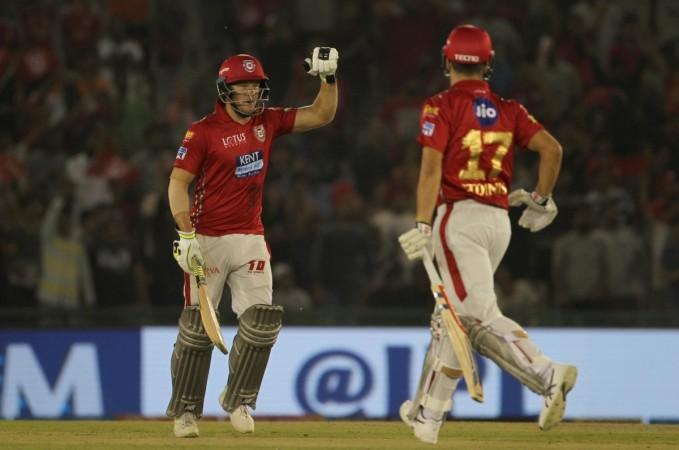 The presence of strong characters in mentor Virender Sehwag and opening batsman Chris Gayle is only adding to the positive atmosphere in prevailing in the KXIP camp, according to Miller, who also insists that his team is on the right track after winning five of their first seven games.
On the eve of KXIP's home game against Mumbai Indians in Indore, International Business Times India caught up with Miller over a candid chat. Below are excerpts.
IBT: You have been one of the mainstays at Kings XI. What has been different this season?
Miller: There is a good balance in the Kings XI squad this year, compared to the rest of the teams. Obviously, we have a lot of match-winners.
The guys have started well, which I think is a really good thing in the IPL. If you start well, you can really sort of pull that momentum and keep it going.
IBT: How have you been dealing with the lack of opportunities in the ongoing season?
Miller: It's the nature of the IPL. There is only a certain number of overseas (players) that can play. For a lot of overseas players, it can be a little frustrating. But at the same time, we are fortunate to be in this position, to be a part of the IPL.
Like I said, we started really well, we're doing really well in the competition. You obviously want to play every match, but if you're not playing and still the team is doing well, it still feels nice to be part of a successful team.
Nonetheless, I have been training really hard, getting stronger by hitting the gym so as to be ready when I get an opportunity to contribute to the team.
IBT: We have seen Virender Sehwag keeping it simple on the field. Does he adopt a similar approach as the mentor of the team?
Miller: I think we all know Sehwag. He is very simple. There aren't many words that come from Viru [Sehwag]. When he does speak, he keeps it simple. He helps us with all the experience he has. It's nice to have someone like that in the group.
IBT: Everyone knows about the flamboyance Chris Gayle brings to his game. Can you tell us a bit about his off-field persona?
Miller: Chris Gayle has been outstanding. He is a very professional person. Everyone says a lot of things about him — this and that but he has been very professional with the way he goes about things.
His record stands for itself, he has been a legend of the game. I am really happy to have him in the squad.
I have played against him a lot of times and I have always wanted to meet him and get to know him as a person. He has been really, really good.
IBT: Death bowling has been a cause for concern for most teams in T20 cricket. As a batsman, known for punishing bowlers at will, what would be your advice to bowlers who operate at the death?
Miller: It [T20] is a batter's game. The bowlers have their plans, it's about them trying to execute them well. Obviously, guys have been hit all the time, especially in the last few overs. I think it's actually difficult to try and restrict batsmen these days.
Ultimately, if the bowlers have got their plans and they are sticking to it, that's the best they can do about it. A lot of bowlers are trying to complicate things but it's better to try and keep as simple as possible.