With Virat Kohli and his men set to tour South Africa in January 2018, batsman Cheteshwar Pujara is confident India can create history by winning the three-Test series.
India have dominated the five-day game in recent times. They are currently the number one side in the world. South Africa are second.
It will be interesting contests between the top two Test outfits in Cape Town (January 5-9), Centurion (January 13-17) and Johannesburg (January 24-28).
Also read: India-NZ series schedule, squads
No Indian team has managed to clinch a Test rubber in South Africa and Pujara is confident he and his team-mates can become the first.
"Yes we have enough potential to win the series, away from home," Pujara told International Business Times, India in an exlusive interview today (October 20) when asked about the upcoming South Africa Test series.
The 29-year-old feels the current team under Kohli is doing very well in Asia and can replicate the same in foreign conditions.
"The best part about this team is we have played enough cricket together. We know each other very well. In the last one-and-half years we have hardly lost a Test, although we are playing in Asian conditions.
"The kind of cricket we are playing, we are confident that we can do the same thing away from home. We are very confident that we will put up a good show outside Asia," Pujara, who has played 51 Tests and scored 4,107 runs with 13 tons, explained.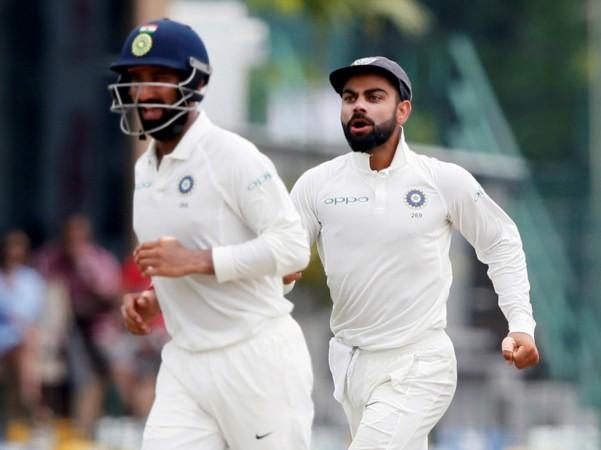 When asked about captain Kohli, Pujara praised the Delhi right-hander and felt there is a lot to learn from him.
'Leading from the front'
"He (Kohli) has been doing a good job for the Indian team. When it comes to his scores, the numbers speak for him. His work ethics are really good. He is someone who leads the team from the front and really works hard on each and every aspect of his game - whether it is fitness, fielding or batting. That is the advantage for him.
"His mantra for success is hard work. Everyone (in the team) can definitely follow him and do the same thing. If the leader who is someone leading from the front then it definitely helps the team-mates," he said.
The Saurashtra batsman made his international cricket debut, in a Test, against Australia in Banglaore in 2010. Having completed seven years, Pujara expressed satisfaction.
Seven-year journey
"The (seven-year) journey has been really good so far. There have been ups and downs especially because of the injuries. I am really happy that I have been working hard on my fitness. Now I am fully recovered and there are no injury issues. It is thanks to my fitness and the way I have been working on it since last couple of years.
"The journey has been fantastic so far and am really satisfied with the way things have progressed. Still I would like to improve as a cricketer and play different formats of the game," he said.
The right-hander has often been branded as a Test batsman and is not considered for limited-overs selection. However, Pujara, who has played five ODIs, has not given up hope of making a comeback to Indian team in the shorter formats.
"Yes I am (hopeful of playing limit-overs cricket for India). I have been working hard on my game. I will keeping improving, add few more shots to my game. Going forward I am very hopeful that I will get my opportunities," he opined.
Playing Ranji Trophy
Pujara is currently leading Saurashtra in Ranji Trophy. The batsman said playing domestic first-class matches have always helped him and will be the same ahead of Sri Lanka Tests at home.
"Ranji Trophy has always helped me to become a better player. And I played so many first-class games before I made my Test debut (in 2010). Playing Ranji Trophy, Duleep Trophy and India A games have always helped me. Definitely these Ranji Trophy matches (for Saurashtra) will help me to prepare well for the Sri Lanka Tests at home," he said.
India and Sri Lanka will play three Tests between November 16 and December 6, in Kolkata, Nagpur and Dehli.
The Kohli-led Indian ODI team faces New Zealand in three matches from Sunday (October 22) in Mumbai. The ODIs will be followed by three T20Is from November 1.