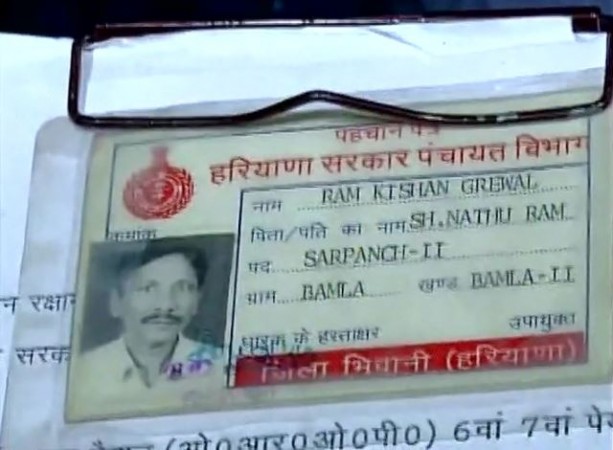 Update: 3.57 pm IST — Police used force against Ram Kishan Grewal's family members, who were draggee on the ground and beaten up, Anand Sharma, the deputy Leader of opposition in Rajya Sabha was quoted as saying by ANI News agency.
Update: 2.18 pm IST — Manish Sisodia, Deputy Chief Minister of Delhi was detained by Delhi Police when he tried to RML hospital to meet the kin of the ex-serviceman who took his own life, Times of India reported.
Update: 2.11 pm IST — Rahul Gandhi stopped at the gate of RML Hospital. He went there to meet the family of the ex-jawan who committed suicide. Gandhi's office calls it an "undemocratic move," News 18 said in a tweet.
Manish Sisodia detained? He had gone to meet family of deceased Ram Kishan ji. He is elected Dy CM. Whats wrong wid u Modiji? So insecure?
— Arvind Kejriwal (@ArvindKejriwal) November 2, 2016
Original Story —
An ex-serviceman committed suicide by consuming poison at Jantar Matar in New Delhi on Tuesday over the delay in the implementation of One Rank, One Pension (OROP). In his suicide note, Ram Kishan Grewal, a former Indian Army subedar from Haryana's Bhiwani district, said he was taking the extreme step for soldiers.
Expressing grief over the incident, Defence Minister Manohar Parrikar, in a tweet said he has asked officials to provide him details of the case.
It is believed that the 65-year-old Grewal had previously written a letter over the issue to Defence Minister Manohar Parrikar. The ex-serviceman's family blames the Narendra Modi government for his death. In his letter, Grewal wrote "please pay heed to our demand," CNN-News 18 reported.
The ahad complained that his former colleagues of the same rank received more pension payments than he did due to the discrepancies in the pension scheme. According to reports, Grewal, who served in the army for three decades, consumed poison on the lawns behind Jawahar Bhawan. He was declared brought dead at Dr Ram Manohar Lohia Hospital.
The local police told media that Grewal was in Delhi with three other people, but they were unaware that he was contemplating suicide.
The former subedar's family says he called them up and informed that he was committing suicide as the government had failed to fulfil the demands for OROP. "He called us and said he is committing suicide as the government has failed to fulfil their demands related to OROP," Grehwal's son told ANI.
The suicide comes two days after Prime Minister Narendra Modi, who celebrated Diwali with army personnel on Sunday, announced the first instalment of Rs 5,000 crore paid for the implementation of the OROP scheme. PM Modi claimed that he had "fulfilled" his promise, which he made to ex-servicemen.
Arvind Kejriwal to meet jawan's family
In a series of tweets, the Delhi CM took the opportunity to lash out at Defence Minister Manohar Parrikar and the Modi government. According to reports, Kejriwal expressed grief over the incident and has said that he will visit Grewal's house to meet his family.
Saddened by the death of Subdr. Ram Kishan Grewal. I express my heartfelt condolences. I have asked for officials to provide me details.

— Manohar Parrikar (@manoharparrikar) November 2, 2016
Delhi: Ex-serviceman Ram Kishan Garehwal (who was protesting at Jantar Mantar) allegedly commits suicide over OROP issue pic.twitter.com/xP4VlRldxE

— ANI (@ANI_news) November 2, 2016
He called us & informed he is committing suicide as the Govt has failed to fulfil their demands related to OROP: Son of Ram Kishan Garehwal pic.twitter.com/37WwsnBOao — ANI (@ANI_news) November 2, 2016
मोदी राज में किसान और जवान दोनो आत्महत्या कर रहे हैं। https://t.co/9f5zJDxlZg

— Arvind Kejriwal (@ArvindKejriwal) November 2, 2016