Forbes has just unveiled the highest earning celebrities of Europe and you will never believe who tops the list.
Also read: Kylie Jenner makes into the Forbes' 30 Under-30 list; is now the second richest Kardashian-Jenner
Harry Potter author JK Rowling has been named this year's highest-paid celebrities in Europe. The British author has banked a whopping $95 million over 12 months. Last year, British boy band One Direction had grabbed the top spot with $89.9 million.
According to Forbes, the author raked in the money thanks to Harry Potter and the Cursed Child, which was the bestselling book in the UK with 1,372,402 copies sold in 2016. She has also penned down the screenplay for Fantastic Beasts and Where to Find Them.
The Harry Potter author had even shot to third place in Forbes list of top 100 highest-paid celebrities of 2017, which was revealed earlier this year.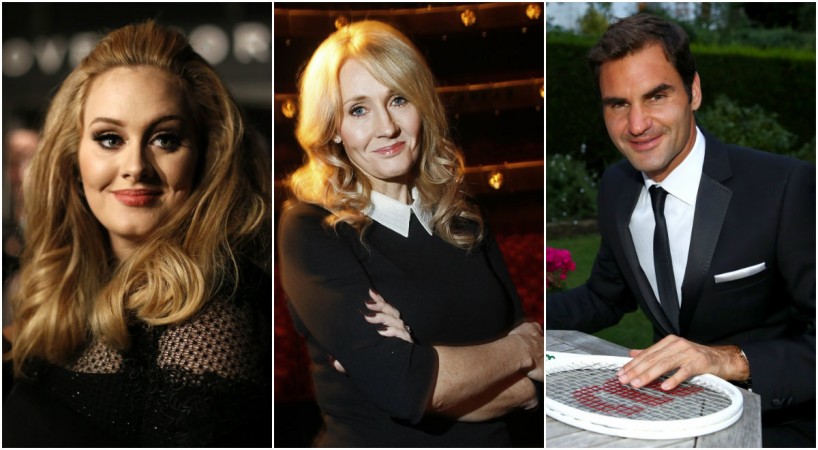 Coming a close second is Cristiano Ronaldo, who earned $93 million. Close behind the Real Madrid footballer comes Coldplay with $88 million, while British songstress Adele shot to fourth place with $69 million.
The remaining list consists three footballers [Cristiano Ronaldo, Gareth Bale, Zlatan Ibrahimovic], three racing drivers [Lewis Hamilton, Sebastian Vettel, Fernando Alonso], two tennis players [Roger Federer, Novak Djokovic], a golfer [Rory McIlroy] and a mixed martial artist [Conor McGregor].
Significantly, only two out of 20 celebrities are women — JK Rowling and Adele — that reflects the overall gender disparity of the Celebrity 100, which is 84 percent male.
Check out the top 20 list below:
JK Rowling (UK; $95M)
Cristiano Ronaldo (Portugal; $93M)
Coldplay (UK; $88M)
Adele (UK; $69M)
Roger Federer (Switzerland; $64M)
Elton John (UK; $60M) Gordon Ramsey (UK; $60M)
Paul McCartney (UK; $54M)
Rory McIlroy (UK; $50M)
Calvin Harris (UK; $48.5M)
Lewis Hamilton (UK; $46M)
Simon Cowell (UK; $43.5M)
Tiesto (Netherlands, $39M)
Sebastian Vettel (Germany; $38.5M)
Novak Djokovic (Serbia; $37.6M)
Ed Sheeran (UK; $37M)
Fernando Alonso (Spain; $36M)
Gareth Bale (UK; $34M), Conor McGregor (Ireland; $34M)
Zlatan Ibrahimovic (Sweden; $32M)