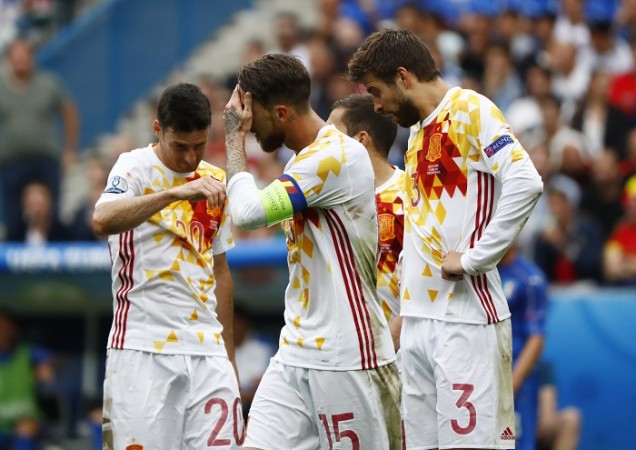 Former Spanish midfielder Xavi had said ahead of the match this was going to be a 'troublesome game' for Spain, and so it turned out. Spain's hold of Europe was ended by Italy in sublime fashion, as they defeated the defending champions 2-0 in the round of 16 fixture on Monday.
A number of interesting statistics popped up after the Spain vs Italy encounter. This was Italy's first competitive victory over Spain since the 1994 World Cup quarterfinals. Italy also defeated Spain for the first time since August 2011, and ended their own five-match winless streak against Vicente Del Bosques's men.
Spain have now lost four out of their last seven games in major tournaments, after holding a staggering record of 12 undefeated matches. Spain also conceded their first goals in the knockout stages of any major tournament since 2006.
Despite all these statistics and several football critics claiming that Spain's era has ended, Del Bosque feels that La Roja still have a bright future.
"I don't think an era has finished, but we understand how difficult it is to win a major championship. Spanish football has a great structure and we've been working for many years on it. We have a good youth academy and good young players," Del Bosque was quoted as saying by Reuters.
Spain were definitely not at their best. They are known for their creativity in midfield. Their ace of spades in the midfield, Andreas Iniesta, was left frustrated after the lack of support from the Spanish forwards against Italy. Adding to the statistics, Alvaro Morata made just 28 touches in the 70 minutes he played against Italy in the round of 16 fixture of Euro 2016. Del Bosque admitted that Spain did not play freely and that cost them the game. The Spanish manager also went on to laud Azzurri's efforts against his side, who were definitely the second best.
"We were a bit timid and didn't play with enough bravery and decisiveness. We took more risks, but we couldn't equalise," Del Bosque added.
"The Italians played well and were very effective. It's a difficult style of football to play against and they deserved to be in last eight."
Meanwhile, Antonio Conte was delighted after Italy cruised into the quarterfinals of Euro 2016.
"I applauded them because they did something fantastic tonight. They are great men and wonderful footballers. I want to congratulate them. Every time there is injury or suspension they raise the bar," Conte was quoted as saying by the Independent.
"It was a great performance. I am pleased this is a team that plays football. We are very organised defensively but equally going forward. Often people just think that Italy are a defensive side, but that is not the case. I don't coach people to play counter-attack."
While Spain will board a flight back home, Italy will gear up to face the world champions Germany in Euro 2016 quarterfinals.