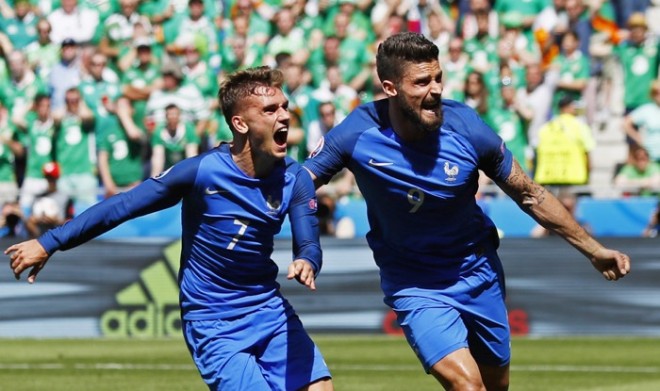 When Eric Cantona questioned Didier Deschamps' decision to leave Karim Benzema and Hatem Ben Arfa out of the France squad for Euro 2016, there would have been quite a few wondering if the manager had indeed made the right decision, particularly as far as the Real Madrid striker was concerned. Olivier Giroud was unnecessarily booed by the French fans during a friendly match leading up to Euro 2016, because, they were unconvinced that this France attack would be good enough to beat top opposition without Benzema, despite the striker never really convincing consistently enough in a Les Bleus shirt.
France found a way to top their group without really dominating their opponents in terms of goals, while they needed an inspired second half performance against the Republic of Ireland to just make it to the quarterfinals.
In that second half, though, a partnership was born – between Giroud and Antoine Griezmann – with the latter showing just how lethal a player he can be when he is given that free, second striker role.
Deschamps had the option of playing Griezmann right in behind Giroud for the quarterfinal against Iceland, largely owing to N'Golo Kante's suspension, and it worked wonders again, as France plundered five goals against the fairytale team of Euro 2016.
Despite that impressive performance, though, the doubts over France's ability to topple heavyweight opposition remained. The semifinal against Germany would show just how good this France team are and if they are capable of lifting the European Championship title on home soil, much like a Michel Platini-inspired side did back in 1984.
Griezmann and the France team answered that question in style, netting a couple of goals against the world champions without reply.
France might not have been the better side in terms of possession-control and chances created, but they were the more efficient team in front of goal, and in big matches, the only thing that matters is efficiency.
In Griezmann, the hosts have one of the most productive forwards in Europe at the moment – he can create and he can score in equal measure and after a tired start to the tournament, the 25-year-old has come into his own, leading the goalscoring charts of Euro 2016 with six, double the number of his next closest rival.
"I'm absolutely delighted and very proud," Griezmann said after his penalty and poacher's finish allowed France to beat Germany 2-0 and lock a place in the final of Euro 2016 against Portugal.
"There's still one match to go to finish with a flourish – it's going to be very tricky but I hope this won't be the end. It's our duty to win matches for the French public and let's hope we can finish on a high."
The high of beating Germany will take a while to come down, but if France continue to play attacking football in this manner, even Cristiano Ronaldo might not be able to stop the hosts from lifting their first major title in 16 years.
"I hope we'll lift the trophy, but for now let's enjoy (this win over Germany)," Griezmann added. "We're thrilled, we feel like kids. We know the whole country is behind us, so we're giving everything for them.
"We're very happy. We can start dreaming of 10 July (the date of the final). We have to keep our feet on the ground, there's still a match to go. We're delighted. Both before and during the game it was great with our fans – let's hope we can relive that in the final."