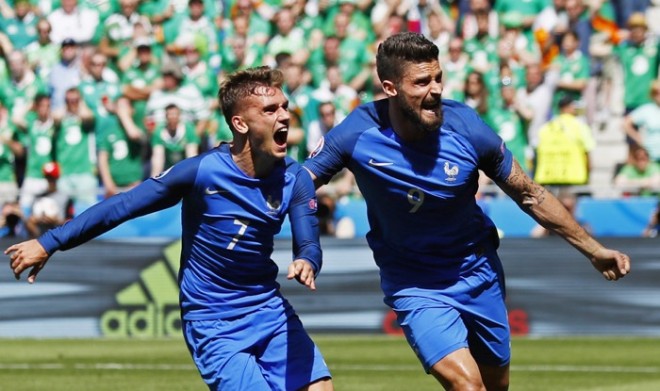 France have cruised into the quarter-final of Euro 2016 after beating Republic of Ireland in a round of 16 clash at the Parc Olympique Lyonnais in Lyon on Sunday. France came back from behind to secure a fantastic victory to progress further in Euro 2016.
Paul Pogba gave away a penalty in the second minute of the match after he brought down Shane Long inside the penalty box area. Robbie Brady stepped up to take the penalty and made no mistake whatsoever to put that into the back of the net.
Republic of Ireland were defensively quite strong till the end of the first 45 minutes. But they could not hold on to their lead for long as Bacary Sagna delivered a cracking cross from the right side and Antoine Griezmann timed his jump to perfection and powerfully headed the ball into the left top corner of the net.
Just three minutes later Olivier Giroud was at the end of a long ball and he dodged the ball towards Griezmann again and the Atletico Madrid star scored his second of the match to put France ahead in the game.
Few minutes later, Republic of Ireland piled on to their own miseries as Shane Duffy saw a red card after he brought down Griezmann just outside the penalty box. The Irish side were down to 10 men in the 66th minute.
France were rampant after that. They continued with their counter-attacks. Andre Pierre Gignac was at the thick of the action. Even he lost count how many chances he missed in a short sopan of time at the pitch after he replaced Giroud.
Griezmann could have earned that hat-trick but the Republic of Ireland goalkeeper denied the French star of the opportunity.
Surprisingly, Republic of Ireland had only one shot in target and that was the goal they had scored from the penalty.
However, Martin O'Neill, the Republic of Ireland coach, had said before the match that even if they go down, they will go down fighting. They did play well but in parts. France were relentless in their attacks in the second half and they were duly rewarded with two goals from Griezmann.
France on the other hand, had plenty of chances and the scoreline could have been worse. But somehow, Randolph saved the day for Ireland.
France will now face either England or Iceland in the quarter-final of Euro 2016.