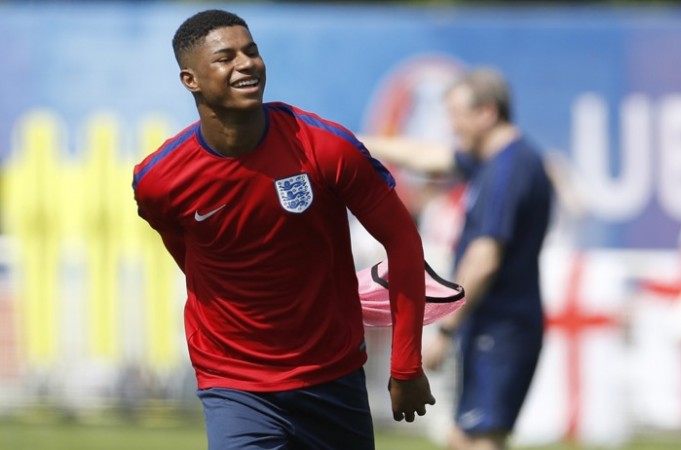 Everybody is busy discussing about superstars, who are going to hog the limelight during Euro 2016, which kick-starts from June 10 at Stade de France. But one should not forget that the teams have not only picked the veterans but also have opted for the young and promising talents for the forthcoming European Championship.
A number of young and not-so-famous talented footballers can break through during Euro 2016 in France.
There are players who can give a tough time to superstars during this Euro 2016 and they also have the capability of doing so with exemplary ease.
It will be very interesting to see how the respective managers use these raw talents at this big stage of football. It will also be incredible to see how these young players are going to cope up with the pressure and brush their shoulders with the big daddy's of European football.
Let us take a look at some of the players who can breakthrough during Euro 2016:
Marcus Rashford (England): A Manchester United star in making himself could not believe that this is actually happening. It was not long ago that he made his debut in the English Premier League for the Red Devils and ever since then, he has burst into the scene. After scoring eight goals in 17 appearances for the United, he came and scored for England on his international debut against Australia few days ago. He has it in him to become Roy Hodgson's wonder boy.
Anthony Martial (France): Everybody had criticised Louis van Gaal after he spent a staggering amount for Martial. But the 19-year old French youngster shut the critics with an outstanding debut season with the Red Devils. However, Martial is yet to score for his nation even after playing eight matches. Who knows, may be he was saving it for Euro 2016.
Renato Sanches (Portugal): Renato Sanches is being considered as one of the most promising young talents in European football. He was recently roped in Bayern Munich from Benfica. It will be interesting to see whether the 18-year-old can make a similar impact like Cristiano Ronaldo did back in 2004.
Kingsley Coman (France): Coman consists of pace, flair, ability -- basically, a complete powerhouse winger. Just what a manager needs in his side in such big-ticket tournaments like Euro 2016. It is as if France already have the likes of Paul Pogba, but it seems that is not enough, as now they have Coman as well. The 19-year-old spent one year on loan from Juventus at Bayern Munich and he did not fail to impress Pep Guardiola, who will join Manchester City in the next season.
Leroy Sane (Germany): Yet to make a debut for the German national team, Sane had an extremely impressive season with his club FC Schalke. He can offer a lot of pace down the wing and versatility. He might be a very handy option for Joachim Low in the absence of Marco Reus. Sane even scored an away goal against Real Madrid in the Champions League in the last season.
Breel Embolo (Switzerland): The 19-year old youngster from FC Basel has been extremely impressive for his club and thus he has been heavily linked with a move to bigger clubs like Bayern Munich, Liverpool, Arsenal and Tottenham. Basel had turned down the offer from Wolfsburg during the January transfer window as well. The centre forward has a lot of quality and his finishing ability will make him a special player during Euro 2016.