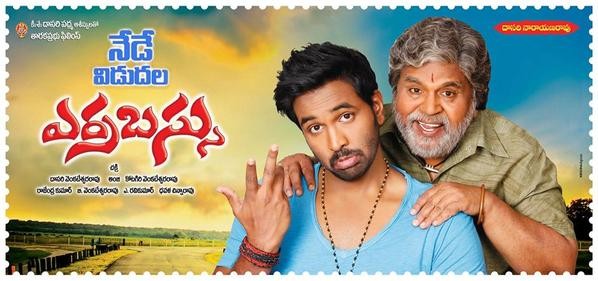 Actor Vishnu Manchu's "Erra Bus", which marks the comeback of legendary filmmaker Dasari Narayana Rao, has been released in theatres worldwide on 14 November.
"Erra Bus" is a romantic comedy entertainer, which revolves around the bond between the hero and his grandfather.
It is the remake of Ragavan-directed Tamil film "Manjapai", starring Vimal, Lakshmi Menon and Rajkiran. The Tamil version was produced with a shoe-string budget, but became a big hit at the box office.
Rao has adapted it to Telugu with some changes in the screenplay to impress the local audience. The director has chosen to remake the film as it has been appreciated by the family audience in general and the subject perfectly suits the Telugu audience in particular.
The story of "Erra Bus" is about Rajesh (Vishnu Manchu), a software employee, who was brought up by his grandfather (Dasari Narayana Rao) after his parents committed suicide. Rajesh brings his grandfather to the city to spend quality time with him. But the old man is from a rustic background and is not accustomed to urban lifestyle. Some of his actions cause embarrassment to Rajesh, which insults him in public. What happens next will form the crux of the story.
The Telugu audience seems to be impressed with the film. The romantic scenes between Vishnu and Catherine Tresa and Rao's comedy scenes are the highlights in the first half of the film. Some sentimental scenes and Brahmanandam's comedy are very entertaining in the second half, according to viewers.
Read Twitter Review of "Erra Bus" below:
Sangeetha Devi
What an extremely sterotyped, myopic portrayal of characters. Not even midway & Errabus is turning out to be a big bore. Dasari mistakes an Apple mac for a toaster and attempts to make a sandwich. #cry #Errabus
Arvinod
#Errabus Super duper hit ..vishnu ultimate acting ..dasari award winning performance 2 rojula bomma #Superfutt
Tollywood BoxOffice
Watch it from 1:18, #ErraBus review, prathi scene ki dlg ki audience single dlg reaction, 'patha samanlu kontam'
GVinkumar
#Errabus vishnu did the best performance movie super...... @iVishnuManchu @HeroManoj1 @LakshmiManchu @themohanbabu
Srinivas
@movieezz Avunu aa 1st half kante #Pillaanuvvulenijeevitham 1st Bagundhi Kani Dheniki 3 ichadu #Errabus ki rating ichada??
Shrinu Nakka
Interval..DNR's role reminded of old movie mama garu... Itz good so far #ErraBus