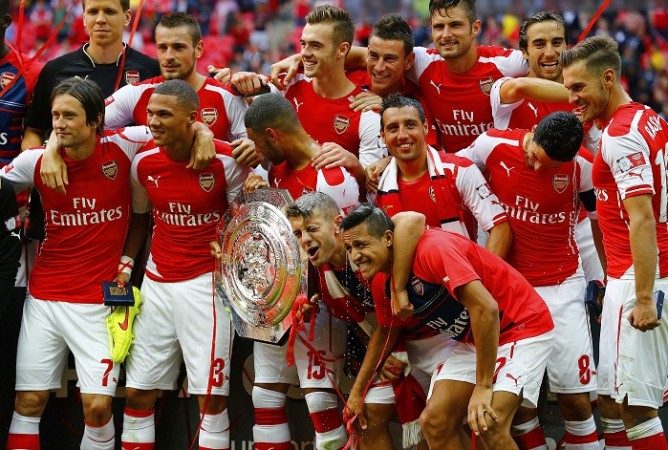 Too many times Gooners have had to wait until the very last moments of the summer transfer window to even get a glimpse of what their team might look like for the upcoming season. Not this time, though. Four new signings have already walked through those Arsenal doors, and a few more are expected.
With money now pouring in from several commercial deals and those stadium payments well under control, Arsenal finally look like a club who are valued amongst the best in the world; not like a middle of the table team who need to exercise prudency to just function.
Alexis Sanchez, Mathieu Debuchy, Calum Chambers and David Ospina have all been added to the Arsenal squad with Arsene Wenger looking to plug the holes that opened up and flooded the system during the second half of last season.
Sanchez provides Wenger with pace, power, finishing ability and tremendous skill and another option to Theo Walcott, who was sorely missed last season due to injury.
Mathieu Debuchy is a direct replacement for Bacary Sagna, who joined title rivals Manchester City on a free transfer, and the former Newcastle man has already looked well at home at Arsenal.
Calum Chambers is a typical young Wenger signing, and at £16 million already looks like a steal, while David Ospina will give Wojciech Szczesny some much-needed competition, making the goalkeeping department as strong as it has been in many years.
Arsenal still need some strengthening, though. Having lost Thomas Vermaelen and Sagna, who was Wenger's fourth-choice centre-back, the team need another centre-half, and a defensive midfielder like a William Carvalho will not hurt either.
While several pundits have called for Arsenal to sign a goalscoring striker, Wenger does have many options on that front apart from the obvious Olivier Giroud. Yaya Sanogo, while still looking raw, has shown his talents during preseason, while Sanchez, Walcott, Lukas Podolski and Joel Campbell can all play in that position as well.
Yes, an Edinson Cavani or a Radamel Falcao will turn Arsenal from possible title contenders to one of the favourites, but the back half of the pitch is where the team need more strengthening.
Much will also depend on how Sanchez adapts to the Premier League and how the Chilean links up with the likes of Mesut Ozil, Santi Cazorla and the main man Aaron Ramsey. The Welshman had a wonder season last time around, and that too despite missing a few months through injury. If Ramsey can stay injury-free, then Arsenal will be right up there.
And the Gunners will cause shivers down the spines of their opponents, if Ozil finds his groove, like he did at the beginning of last season, before tailing off. Ozil will now have plenty of options to play balls in behind the defence with Sanchez and Walcott likely to make those runs, along with Ramsey, which will again open up more space.
Ozil, with the ball at his feet, is a magician, and Wenger will certainly hope the Germany international, fresh from winning the World Cup along with Podolski and Per Mertesacker, weaves that magic wand of his with regularity.
The FA Cup success has finally given Arsenal and their players that confidence that they can clinch silverware; and the manner in which they eased past Manchester City in the Community Shield was mighty impressive.
But the real test will be the English Premier League, and their ability to stay the course. Last season, Arsenal were like one of those pacemakers for the favourites, setting the tone early on, before drifting out of contention.
This season, Wenger will hope to fashion a similar searing start, but with the extra firepower still within their armoury to ensure they don't run out of gas during the business end of the season – another signing from the German national team, might just play a big role in achieving that target.