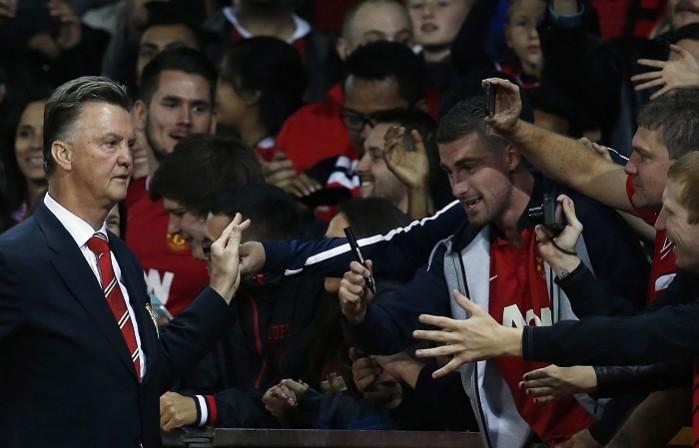 This time last season, while, there was no pall of gloom which became the primary feeling as the last campaign progressed, the expectations and excitement were not as high – David Moyes, the "safe" pair of hands given the job of keeping Manchester United up amongst the best as they looked to move on from the ridiculously successful Sir Alex Ferguson era, was expected to well, but not work any wonders.
This time around, though, there is a palpable sense of excitement around Old Trafford – everyone waiting with baited breath to see just how the maverick Louis Van Gaal turns Manchester United around after their disastrous seventh-place finish last season – with miracles and wonders being predicted left, right and centre.
If the preseason games are anything to go by, then that poor campaign could just be a blip in the club's history. Van Gaal, after all, without too many new faces – only Luke Shaw and Ander Herrera have been signed so far – has transformed the way Manchester United play.
The 3-5-2 formation, whether out of necessity, owing to the poor balance of the squad according to the manager himself, or just his preference for that style of play, has been a success (going by the preseason games, of course) with United staying unbeaten throughout their US tour and the final tune-up match at Old Trafford, Van Gaal's first at home, against Valencia on Tuesday.
While all signs point towards improvement, United and the Dutchman still have plenty of work to do. New signings need to be brought in and some of the names being suggested – Arturo Vidal, Juan Cuadrado, Marcos Rojo and Daley Blind – will only make this squad better.
The existing veterans will play a big part, especially Wayne Rooney, who will want to justify being made captain with one of those "man I can still remember that" seasons.
Also watch out for some of the youngsters of this United side to break through this season. Van Gaal is a man who always gives opportunities to young players, and the likes of James Wilson, Tom Lawrence, Reece James, Jesse Lingard, Nick Powell and the Keane brothers, to just name a few, could all feature heavily and make a big impact.
Ferguson had this ability to get the best out of his resources, even if, on paper, they might have not seemed like the best; and Van Gaal is the same. While plenty of big names are expected to come in, the new manager will also wring out every inch of talent and ability from his current crop of players to ensure there is no repeat of last season's debacle.
While the English Premier League title is a realistic target, especially considering Manchester United do not have any European distractions; getting back into the top four will be the priority. However, Manchester United will look to the success of their big rivals Liverpool, who managed to make a real charge at the Premier League title, thanks largely to the lack of European football.
Whether it is a 3-5-2 or a more conventional 4-3-3, one thing is certain – Manchester United, under Louis Van Gaal, will certainly be more entertaining, and most United fans will hope, more successful.