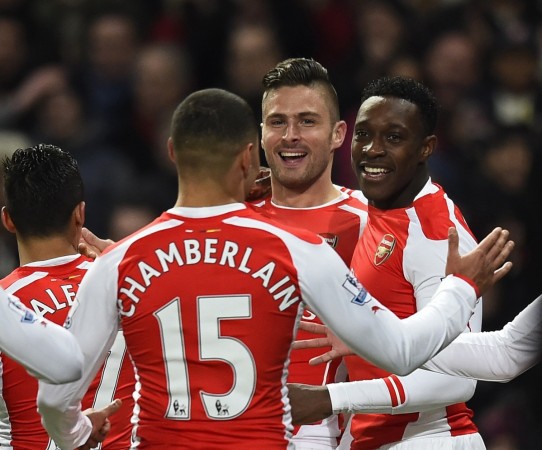 Arsenal travel to the Merseyside region to take on Liverpool in an important clash as both sides look to better their position in the Premier League.
With almost half the season gone, the Reds find themselves in 11th place in the Premier League, 18 points behind leaders Chelsea.
Although Liverpool's hopes of challenging for the Premier League title have effectively ended, they might still be looking to seal a top-four finish in order to qualify for next season's Champions League.
However, considering the current form they are in, the Merseyside would be lucky to even secure themselves a Europa League position.
Still Liverpool will be hoping to improve and finish the 2014/15 campaign on a positive note.
The Reds are certainly not the favourites against Arsenal on Sunday, but they will be taking some confidence from the 5-1 thrashing they inflicted on the Gunners at Anfied last season.
And Liverpool boss Brendan Rodgers despite claiming that last season's result will give them a boost, admits that the game is going to be tough.
"Internally, it will continue our spirit [sic] and our focus. For us it will be good for our confidence," Rodgers told ESPN. "But it will be a difficult game."
"They are a top side with outstanding players. They did okay at home last week winning 4-1 against Newcastle and they played really well. They have outstanding players but we will look to focus on ourselves."
Meanwhile, Arsenal will be looking to take advantage of Liverpool's poor form this season when they travel to Anfield on Sunday.
The Gunners have also not been in the greatest of form of late as three defeats in their last six fixtures have left them in seventh place (13 points behind leaders Chelsea) in the Premier League.
They will however be a little confident following their 4-1 win over Newcastle, who managed to beat Chelsea this season, in the last fixture.
Although Arsenal are expected to beat Liverpool on Sunday, manager Arsene Wenger insists that he expects to play against a very good team.
"I expect to play against a very good team," Wenger told Arsenal's official website. "Liverpool scored over 100 goals last season in the Premier League and they were very good going forward. This season they've scored 19 I think until now so they are not on the same trend offensively."
Wenger says that he also has a lot of respect for the crowd at Anfield as they are always seen backing their team irrespective of the scoreline.
"I have a lot of respect for the crowd at Liverpool because they stand behind their team. I remember one day we were leading 5-1 at Liverpool and they were chanting, 'You'll never walk alone.' It's one of the few grounds in the world where you can see that. There's a special combination of knowledge of the game at Liverpool and support for their team. I have a huge respect for that."
Where to Watch Live
The match is set for a 1:30pm GMT (7pm IST, 8:30am ET) start with live coverage on Star Sports 4 and Star Sports HD 2. The action can also be viewed via live streaming online in India on Star Sports online.
Sky Sports 1 and Sky Sports 1 HD will show the match live in the UK , and viewers can also watch the match via live streaming online on Sky Sports Online. Listen to the game via radio on BBC Radio 5 Live or on their website. Catch the action in the US on NBC Sports; the game can also be live-streamed online on NBC Sports Extra.
Audience in the Middle East and North Africa can watch the game via live streaming online on Bein Sports Connect, while South Africa and sub-Saharan Africa viewers can live stream the match on SuperSport online. Australia viewers can live stream the match on Fox Sports On Demand, while viewers in Canada can do the same on Watch Sportsnet.