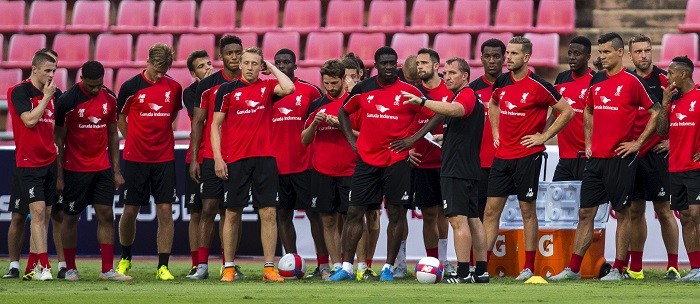 Liverpool's last game against Stoke City in EPL 2014/15 brought the Reds' season to an embarrassing end as they lost the game 6-1, and Brendan Rodgers' men finished in the sixth position after coming so close to winning the title in the previous season.
The two performers of last season, Raheem Sterling and Steven Gerrard, are no longer with the club as the former decided to join Manchester City and the latter moved to the MLS.
Liverpool needs to move on now and prepare for the upcoming season, which is crucial for the club and manager Brendan Rodgers' future.
The manager must be thankful to the owners, Fenway Sports Group, who have supported all his demands (read signing players) even after he failed to win silverware in the first three seasons of his tenure. It is time for Brendan Rodgers to pay back the owners for their trust.
The axe will inch closer and closer to the manager this season as he has once again made a number of signings with the promise of delivering trophies this season. If he fails this time, FSG's trust towards Brendan Rodgers will gradually lose its grip and come Christmas, FSG will perform a serious post-mortem.
Winning the domestic title will be the priority for Liverpool, but with teams such as Chelsea, Manchester United and Arsenal looking super strong, Liverpool should realistically target finishing top four and if Brendan Rodgers is able to get the best out of his team, the Reds can aim for bigger things.
Even if he goes without silverware for the fourth season, FSG may be okay, unless he delivers champions league football; still, the FSG will like Liverpool to push for the FA Cup and the Carling Cup.
So as to qualify for Champions League and perform in this season's other competitions, Brendan Rodgers has made some astute signings such as Christian Benteke, Roberto Firmino, James Milner, Nathaniel Clyne amongst others. The quartet should straightaway walk into the Liverpool's starting eleven and bolster their chances of being a superpower in the league once again.
Apart from the new signings Liverpool already posses players such as Philippe Coutinho, Martin Skrtel, Jordan Ibe and Jordan Henderson amongst others, hence the Reds have quality players in them to make some top teams sweat.
It is imperative for Liverpool to start the competition on a bright note, else their top four finish might be seriously derailed as they are scheduled to play Arsenal and Manchester United in the first five games.
These two games will primarily give one a fair representation as to where does Liverpool actually stand with the new set of players that have been roped in for the new season. Though Liverpool might have been unbeaten in their pre-season, they did not play any top team to be severely tested.
Teams such as Manchester United, Arsenal, Chelsea and Manchester City have already been involved in some tough pre-season fixtures to be mentally and physically prepared for the new season. So, have they already taken a headstart this season?
There are high expectations around Anfield with the new recruits, who are proven players. The Reds have primarily bolstered their attacking options, which was a major worry last season with strikers such as Daniel Strurridge (mostly sidelined due to injuries), Mario Balotelli, Rickie Lambert and Fabio Borini failing to find the back of the net.
Things could have been different had any of the strikers been clinical in front of goal as the Reds were one of the best teams in the competition last season as far as clean sheets were concerned.
So, the new signings should help Liverpool succeed this season though the definition of 'success' for Liverpool fans might differ from person to person.