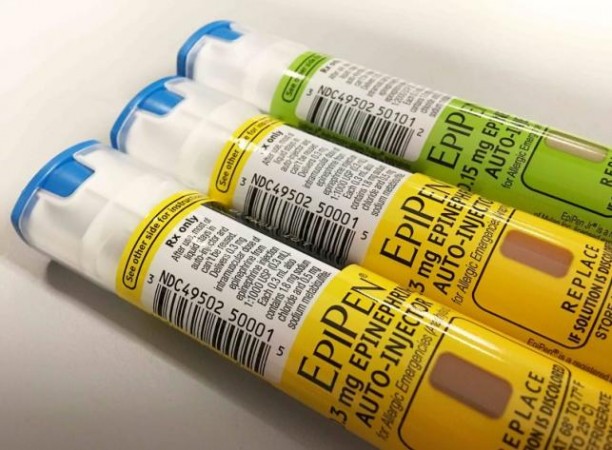 Mylan NV, the company that manufactures the allergy auto-injector EpiPen, has said it would launch the first generic version of its drug for $300 -- half the price of the branded product.
"Our decision to launch a generic alternative to EpiPen is an extraordinary commercial response. We determined that bypassing the brand system in this case and offering an additional alternative was the best option." Mylan Chief Executive Heather Bresch was quoted as saying by Reuters on Monday.
EpiPen is a preloaded injection of epinephrine, also known as adrenaline, used in case of a dangerous allergic reaction called anaphylaxis that could cause death if untreated.
The announcement regarding creating generic version of the drug is the pharmaceutical company's second step in less than a week to counter the backlash generated after they had over announced a steep hike in the price for the drug. EpiPens priced at around $100 in 2008 would cost $600 after the company's recent announcement.
The company's declaration to reduce the out-of-pocket costs of EpiPen for some patients on Thursday was considered inadequate by U.S. lawmakers, including Democratic presidential nominee Hillary Clinton.
After a wave of criticism over the hike in the prices of Epipen, Mylan, which dominates the market and generates annual sales of $1 billion, suffered a setback as its stocks fell 12 percent last week.
Mylan has defended its actions by arguing that it had spent hundreds of millions of dollars in research and development to improve the product since acquiring it in 2007.
But the new announcement regarding the launch of the first generic version of the product "in several weeks" has been assessed to be an unusual claim as the branded Epipen is still patent-protected and major rival treatments have failed to get regulatory clearances.
"The weirdness of a drug company offering a generic version of its own branded but off-patent product is a signal that something is wrong," Robert Weissman, president of consumer watchdog group Public Citizen, was quoted saying. He described Mylan's latest move as another "convoluted mechanism to avoid plain talk, admit to price-gouging and just cut the price of EpiPen."
Among the U.S. lawmakers that criticised Mylan's actions, Democratic senator Richard Blumenthal said the company, with its latest announcement, may appear to be moving in the right direction, but raises as many questions as solutions, including why the price is still astronomically high and whether its action is a preemptive strike against a competing generic.
"Investigations are still vitally necessary into possible antitrust lawbreaking, and I will press for Senate hearings as well as FTC subpoenas," Blumenthal said in a statement. Democratic senator Amy Klobuchar echoed the call for an investigation.
Mylan is the not the only company to have caused outrage over drug price increases. Valeant Pharmaceuticals International Inc and Turing Pharmaceuticals have both been publicly excoriated for similar price increases.