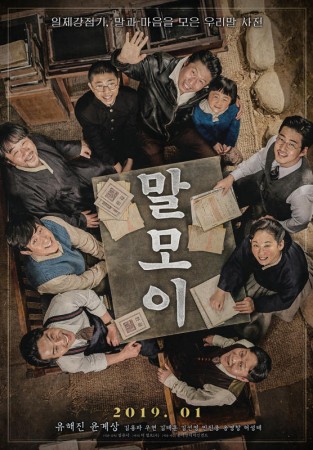 "Mal-Mo-E: The Secret Mission" depicts 1940s Gyeongseong – present-day Seoul- where a group of literary scholars fought to revive the Korean language by creating a dictionary.
As history has it, after colonising Korea, the Japanese Empire tried to wipe out the identity of Korea as a nation. Koreans were forced to pledge allegiance to the Japanese emperor and adopt Japanese names claiming that the two countries shared the same roots. Among such attempts was the policy in 1938 banning education of Korean language and literature.
"Mal-Mo-E" revolves around Kim Pan-Su, an illiterate who gets involved in the compilation of the dictionary. Yoo Hae-jin, who plays the lead role of Pan-su said, "The period film is a pure and beautiful story. The story shows how our language was deemed valuable and protected. Seeing the process through the eyes of an illiterate should help the audience ease into the story".
Yoon Kye-sang plays the role of Ryu Jeong-hwan, the leader of the Korean Language Society. After overcoming the initial trouble in their relationship, the two impart an invaluable lesson to each other in their mission to protect the spirit of the nation.
The movie is an adaptation of real-life events that took place in 1942 when Japanese authorities arrested and tried members of the society. Director Eom Yu-na said, "I wanted the movie to be one in which the actors shine". She further explained her choice for casting crew stating that she wrote the script of Pan-su keeping Yoo in mind. The director also selected Yoon for the role of Ryu as "Yoon like Ryu has been challenging himself as an actor and striving to make a mark for himself".
The movie marks the directorial debut for Eom after her promising script for the award-winning "A Taxi Driver".
Eom further added that "When people think of a film based on Japanese colonial rule of Korea, they think of great heroes or independence fighters who battled against the Japanese military. But "Mal-Mo-E" is a tribute to so many nameless people who contributed to making the dictionary. Even today, small actions propel great things. I hope this thought could resonate with today's society as well".
"Mal-Mo-E: The Secret Mission" is slated to release in February 2019.