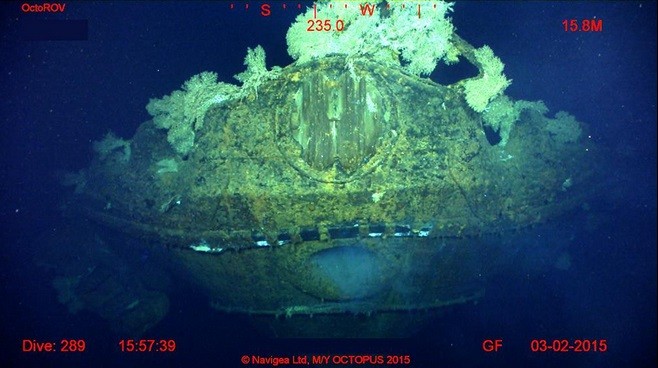 Microsoft co-founder and billionaire Paul Allen has claimed to have found a WWII-era warship of the Japanese Navy sunk by the United States on the seabed in the Philippines.
Allen announced through his official Twitter account on Monday that his exploration ship M/Y Octopus's remote-controlled probe had come across the Musashi battleship, identified by the Japanese Empire's characteristic 'Chrysanthemum' seal, on the seabed in the Sibuyan Sea in the Philippines' Visayas islands.
"The ship was sunk during World War II and, despite numerous eyewitness accounts, the exact location of the ship was unknown. Using historical records from four different countries, detailed topographical data and advanced technology, M/Y Octopus, Allen and his team discovered the wreckage in the Sibuyan Sea off the Philippines on March 1, 2015," a statement on the billionaire's official website said.
Musashi, said to be one of the largest battleships in history at 73,000 tons had sunk on 24 October, 1944 after it was hit by the US warplanes during the Battle of Leyte Gulf and more than 1,000 people lost their lives.
"RIP crew of Musashi, approximately 1,023 (lives) lost," Allen said in a tweet.
Allen said the picture of the ship's valve, which he shared on Twitter, was the first confirmation that it was of Japanese origin.
RIP crew of Musashi, appx 1023 lost. The pic of the valve 1st confirmation of Japanese origin (clues 2 use apprec). pic.twitter.com/BcJgkhWskb

— Paul Allen (@PaulGAllen) March 2, 2015
"The Musashi is truly an engineering marvel and, as an engineer at heart, I have a deep appreciation for the technology and effort that went into its construction," Allen said in a statement, The Wall Street Journal reported.
However, Japanese and Philippine officials were not aware of the discovery, according to The Japan Times, which reported that the Suikokai, a foundation for officials who retired from the former Imperial Japanese Navy and Maritime Self-Defence Force, as well as the Phillippines navy and coast guard had not been intimated about the discovery.
Musashi expedition captures amazing video of remarkable WWII warship http://t.co/Ry1NZ4nveW pic.twitter.com/X27GTJMiKl — Paul Allen (@PaulGAllen) March 4, 2015
WW2 Battleship Musashi sank 1944 is FOUND > 1K M deep by MY Octopus Sibuyan sea, bow Chrysanthemum, huge anchor. pic.twitter.com/b9ZMA0icI8

— Paul Allen (@PaulGAllen) March 2, 2015