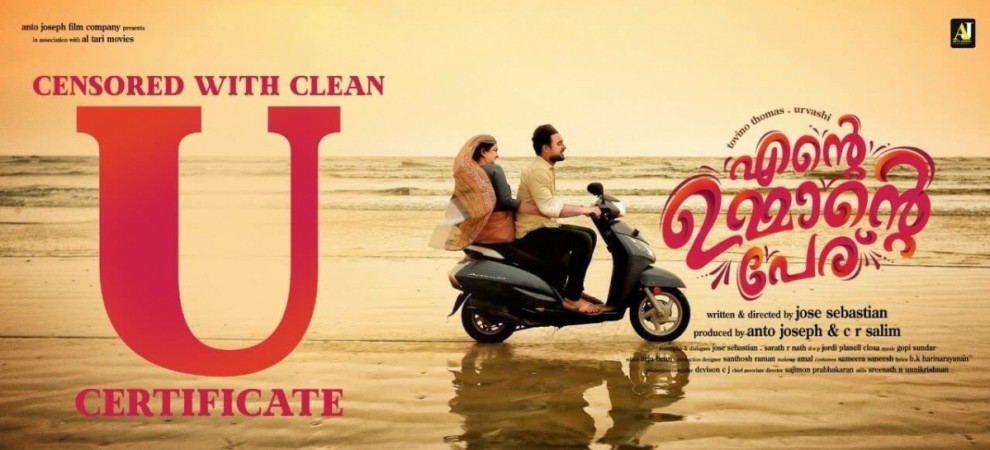 Tovino Thomas, the dashing young Mollywood hunk is back in action with his new movie 'Ente Ummante Peru' that hit the theatres on December 21, 2018. Unlike previous Tovino movies that got 'U/A' or 'A' certifications due to intimate lip-lock scenes, this film came with a clean 'U' certificate, and as expected debutant director Jose Sebastian has delivered a perfect outing for family audiences.
In quest of mother's love, Tovino starts his journey
Tovino Thomas is playing the role of Hameed, a happy young man who faces the sadness of his life when his father takes his last breath. Even though Hameed is financially well settled, the sudden demise of his father impacts him very badly. Things get worsened when he received the yatheem (orphan) status from the neighbors, and due to this factor, he even faces challenges in his romantic relationship with the girl he loves.
At this juncture, Hameed sets out to find his mom, and his journey to obtain the motherly love he lost in darkness forms the remaining part of the movie.
The tale of love and deep emotions
Director Jose Sebastian has crafted the movie well. In the initial moments of the first half, the director took some time to establish the characters in the minds of the viewers, and the second half mostly shot in Lucknow was emotional and heart touching.
The movie is blessed with the impressive acting of Tovino Thomas. The actor literally lived like the life of an innocent Hameed on screen, and it was a sheer delight to see him performing emotional scenes with finesse. Veteran actress Urvashi who played the role of Vegili Ayesha was awesome. Hareesh Kanaran handled the comedy department perfectly, and his mere presence on the screen was enough and more to make the audiences smile.
In the technical side, special mention should be given to Jordi Plannel Closa who beautifully captured the visuals of Wayanad and Lucknow.
Final Verdict
'Ente Ummante Peru' beautifully handles human relationships, feelings of being orphaned and the love between a mother and son perfectly which makes it a must-watch movie on theaters.