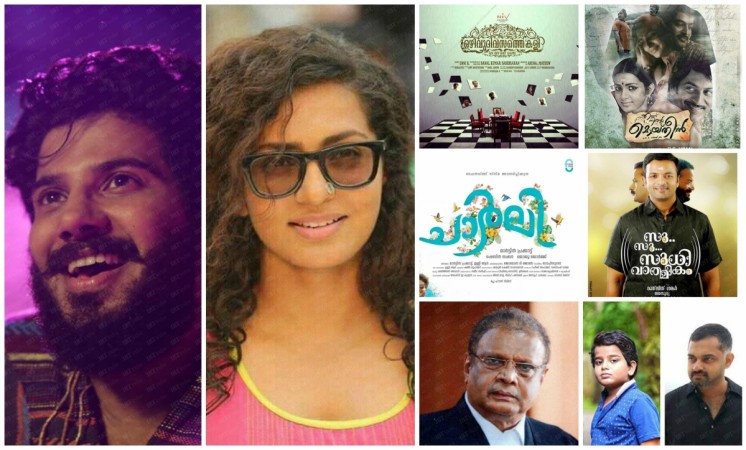 The winners of the much-awaited Kerala State Film Awards 2015 was declared Tuesday, March 1, by Thiruvanchoor Radhakrishnan.
Young actor Dulquer Salmaan has bagged the prestigious Best Actor award for the first time for his performance in Martin Prakkat's blockbuster movie "Charlie." The other probable actors for the award were Dulquer's father Mammootty, Prithviraj Sukumaran and Jayasurya. Parvathy has won the Best Actress award for her roles in "Charlie" and "Ennu Ninte Moideen."
"Today was probably the happiest day of my life. First and foremost thanks to all the viewers and everyone who have been supporting and encouraging me from the beginning of my career. Thanks to the jury for encouraging us youngsters. And more than anyone, thanks to all the brilliant actors in our industry who have done such superb films and given such phenomenal performances that continue to inspire me to work harder. Last but certainly not the least - Team Charlie !!," writes Dulquer on his Facebook page.
Also read: Kerala State Film Awards 2015 controversies
Here's why 'Premam' couldn't bag any Kerala State Film Awards
Jayasurya snagged the Special Jury award for his performances in "Lukka Chuppi" and "Su Su Sudhi Vathmeekam." Martin Prakkat's "Charlie" has won as many as eight awards followed by RS Vimal's "Ennu Ninte Moideen." The other winners of the prestigious awards include Prem Prakash, Anjali PV, Gourav Menon, Janaki Menon, Jomon T John, Unni R, Martin Prakkat, Rafeeq Ahamed, Ramesh Narayanan, Bijibal, Jayachandran, Madhusree Narayanan, Jayashree Laxmi Narayanan, Angel Shijoy, Sreebala K Menon, Joy Mathew, Joju Geroge and Shreya Jayadeep.
Best Child Artiste winner Gourav Menon wrote: "Thank You All for the Love and Support ‪#‎StateAwards‬ ‪#‎ChildArtist‬ #Ben Malayalam Movie"
Celebrities, including Nazriya Nazim, Gopi Sunder, Aju Varghese, Alphonse Puthren, Sithara and many others have congratulated the state award winners.
Check out full winners' list HERE
Check out celebrity response here:
Mohanlal
Congratulations to all the state award winners
Rima Kallingal
Parvathy.. So happy for your state award win. Have known you for so many years and the fact that your love, passion and commitment towards your art has only grown by leaps and bounds underlines why your are truly deserving of this honour. Congratulations Jayashree Lakshmi Narayanan. You have been bringing a world of change to art direction in our Malayalam film industry with your quirky and unique sense of colour and design. Bravo!! Congratulation Sreebala. All the very best for your next. 4th consecutive win for Bijiettan .. No surprises here:) Jayasurya.. We all are still waiting... This mention is not enough. Congratulations to DQ , Unni.R, Martin Prakat , Jomon and the whole Charlie team It is celebration time:) Joju.. So happy for you. Your journey has truly been amazing and should inspire a lot of youngsters out there. Joy Etta:):):) Congratulations Prem uncle and Anjali. Brilliant Character artists are the biggest strength in our movies. Congratulations to all the state award winners:) Recognition and appreciation for their hard work is so very important for artists in their journey forward. Here is hoping these artists soar higher from here and also hoping that a lot of deserving artists who didn't find mention here are in no way discouraged.
Nazriya Nazim
Congratulations to all state award winners! Special congrats to the whole Charlie team and my darling bum (Dulquer) we love u ...congrats Parvathy !
Congrats to all the state award winners...
Really happy for Dulquer Salmaan n the well deserved Parvathy.
I'm super happy for my dear friend, brother Jomon T John.
And ofcourse for my dear friend from college Angel shijo.a for winning the award for the best dubbing artist!! Malayalathinte swantham dicaprio Jayasurya kkum ende ella vijayashamsakalum!
Neeraj Madhav
Congrats Martin cheta, Jayetta, Jomon T John, Parvathy, Dulquer Salmaan,Unni cheta, bijiyeta and all the winners of the state award! Awards and accolades are always an inspiration to try harder not just for winners but everyone. Cheers
Aju Varghese
Congrats Jayasurya ettan, Dulquer, Parvathy, Martin chettan, Unni Chettan, Jotomon, Rajesh Nenmara(makeup)
Congrats to all the other winners :)))
Ranjith Sankar
Congrats to all state award winners!
Special congrats to jayan!!
Farhaan Faasil
Congrats Dulquer and Parvathy
Alphonse Puthren
Congrats to all state award winners

Gopi Sunder
Cngrtzz Dulquer & Team Charlie.
Congratulations biji bro .☺☺☺☺☺
Tony Aalex Valluvassery
In 2014, if it was...OHM SHANTHI OSHAANA....In 2015 its...CHARLIE... bagging da most number of State awards....I'm so glad to b a part of both movies....even thou in tiny bits congratulations to all the state award winners. especially team CHARLIE

Sithara
Congrats to all State Award winners... ! The one and only Jayettan ,dear Parvathi , Bijibal Maniyil , Ramesh Narayanan sir , Lovely Madhusree, Sreebala K.Menon chechi, Sri.Rafeeq Ahamed,Sri.Manoj Kana !
Govind P Menon
Bijibal Maniyil is a muth. Not just a muth, but mega muth. Congratulations chetta..