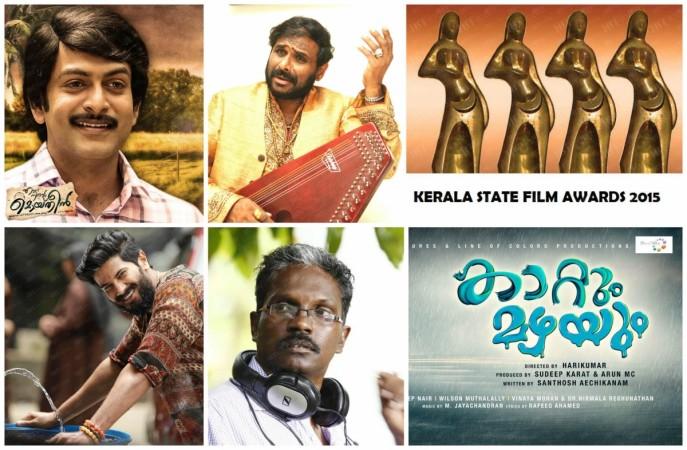 The announcement of Kerala State Film Awards 2015, has invited many controversies this year as well. The names of the winners were declared by State Minister for Forest Transport, Sports, Environment, and Cinema Thiruvanchoor Radhakrishnan at 12 p.m. March 1 in Thiruvananthapuram. The film awards have been bestowed by the Kerala State Chalachitra Academy.
Best Actor Category
Dulquer Salmaan bagged the Best Actor award this year for his performance in Martin Prakkat's "Charlie," in a tight competition against Jayasurya. While majority of the audience members claimed that Mammootty and Jayasurya deserved the award more, jury chairman and director Mohan said that Dulquer won the prestigious award as his performance in "Charlie" was better and different from Mammootty in "Pathemari."
"Mammootty has played similar roles before too and only Dulquer and Jayasurya were considered for the Best Actor category. Dulquer was eligible for the Best Actor award and Jayasurya got the Special Jury award. Both Mammootty and Prithviraj were not even considered for the same as they couldn't reach the level of acting of the winners," Mohan said as reported by Manorama Online.

Ramesh Narayan against Prithviraj and RS Vimal
Music director Ramesh Narayan has claimed that out of the six songs he had composed for the movie, "Ennu Ninte Moideen," only one was included in the flick. The "Sharathambaram" song won him the Best Music Director award as well as P Jayachandran was selected as the Best Singer for lending his voice to the song.
"Prithviraj had claimed that my songs just had an academic standard and didn't want to include them in the movie. After I learnt about it, I asked RS Vimal to accept Prithvi's decision as I knew it was Vimal's dream debut project for six years. Prithvi even said he would not act in the movie if my songs were included in it. Still my song was released, only because of the movie's producer, Suresh Raj. I have been a part of this industry for years, but this is the first time I have been insulted like this," Ramesh told Manorama News.

Also Read: Here's why 'Premam' couldn't bag any Kerala State Film Awards
No awards for "Premam"
Alphonse Puthren's blockbuster movie "Premam" bagged many awards during the recently-concluded Asianet Film Awards and Vanitha-Cera Film Awards. However, the Nivin Pauly starrer, which garnered tremendous response from the critics and audience, couldn't bag any State Film Award and it was even pointed out by Tamil filmmaker AR Murugadoss. "No awards for ‪#‎premam‬!! It's nt fair !!," posted Murugadoss on his Facebook page.
Dr Biju's Valiya Chiraakulla Pakshikal
Dr Biju's movies have won many National Awards before, but the filmmaker claims that his films are always neglected by the State Award jury. Kunchacko Boban starrer "Valiya Chirakulla Pakshikal" has become the sixth movie of Biju to have been denied an honour by the jury members. "Valiya Chirakulla Pakshikal was screened at IFFI's Indian Panorama, all the other film festivals in the country and even in the U.N. But the jury does not find it worthy enough for even a single award. This is sad," Biju said to Onmanorama. "Time for celebrating ignorance of 6th time," Dr Biju posted on his Facebook page.
Kaattum Mazhayum story is copied
Director Harikumar has bagged the State Film Award under the Best Story category for the movie "Kaatum Mazhayum," starring Unni Mukundan and Meera Nandan. Scriptwriter Najeem Koya has now come forward alleging that he had narrated the award-winning story to Harikumar in 2003. "Harikumar had approached me for a story like that of the film Friday. I told him the story and later I came to know that he got Santhosh Echikanam to write that story for the film. I gave a complaint to Fefka and after that Harikumar , Santhosh and I made an agreement that I would be paid Rs 25000 as compensation and my name will also be published on cinema posters of the film. But the agreement conditions were flouted," Koya said to Kaumudi Online.