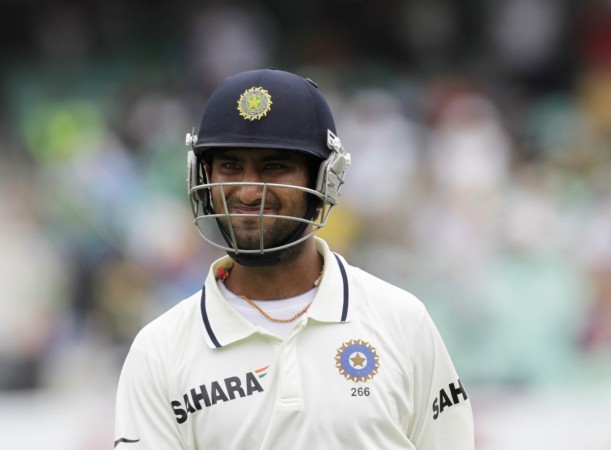 India endured a disastrous outing in the recently concluded five-match Test series against England, like almost every Indian batsmen, the form of Cheteshwar Pujara was under scrutiny, but the 26-year-old has vowed to get more experience for improving his performance in the English conditions.
Pujara is not a part of the limited-overs series against England, but in order to educate himself with the English pitches the Saurashtra batsman has signed a three-match deal with the English County side Derbyshire.
The Indian player was also in fray to join Leicestershire, which is at the bottom of second division, but Pujara decided to join Derbyshire. However, his participation is subject to approval from the Board of Control for Cricket in India (BCCI).
"I am keen to play as much cricket as possible in England this year and I am looking forward to joining up with Derbyshire at the beginning of September," Pujara informed.
Pujara will play three four-day first-class matches for Derbyshire this season, when the Mahendra Singh Dhoni-led Team India fancies its chances in the one-day series. Derbyshire are currently seventh in the Championship.
"We have been focused on delivering a long-term legacy from the visit of the Indian tourist side in July," Simon Storey, Derbyshire's chief executive said.
"Our newly-formed Cricket Derbyshire India Club has been instrumental in supporting our efforts to secure Pujara and we hope the opportunity to watch such an accomplished India Test performer play county cricket here will inspire even more local cricket fans to join us," he added.
Pujara had a tour to forget as he only managed to score 222 runs in 10 innings, with just one half-century on a flat Trent Bridge pitch. He struggled against the moving ball, just like other batsmen, as India succumbed to an embarrassing defeat in the final three Tests to lose the series 3-1.
"Pujara will give a welcome boost to the dressing room in the Championship run-in," Graeme Welch, Derbyshire's elite performance director said. "We are an ambitious club with a developing group of players and we know that joining our dynamic squad will give Pujara exactly the experience he is looking for."
The Rajkot-born, who averages just under fifty in Tests, scored 81 against Derbyshire at the Derby Ground in India's three-day warm-up fixture before the series. However, he was clueless against the James Anderson-led English pace attack.