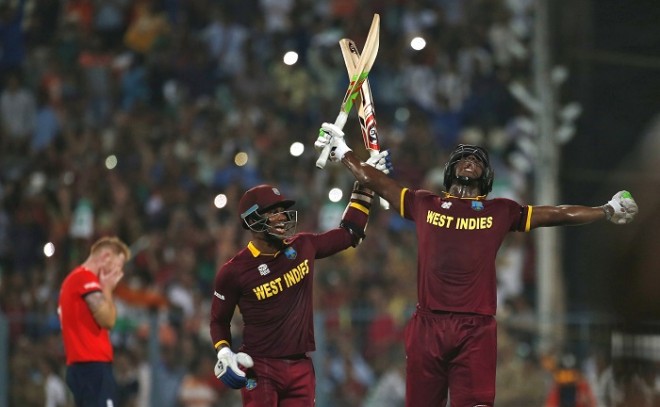 With 19 runs needed off the final over and Marlon Samuels, the set man, off strike, it looked all over for the West Indies, especially with Ben Stokes, the man who has done so well in the death overs for England, bowling the last over. No way, even West Indies were turning this one around, surely.
That no way became a "hmm, maybe, just maybe" when Carlos Brathwaite struck a six off the first ball, and then it turned into a yup, they are going to do it, when the big man from Barbados smashed two more sixes to bring it down to nothing, before finishing it off with another maximum.
Here is how those four balls went.
Ball one (West Indies need 19 off 6 balls): Ben Stokes comes running in, looks for the yorker on leg-stump, gets it wrong, with the ball turning into a half-volley, and Brathwaite helps it along over fine-leg for a six.
Ball two (West Indies need 13 from 5 balls): Stokes comes running in again, desperate to make amends for his misdirected first ball. But, once more, with Brathwaite staying in his crease, it is just shy of a yorker, allowing Brathwaite to use those big levers of his to pummel the ball over long-on.
Ball three (West Indies need 7 from 4 balls): Everyone's thinking, ah man, you've done your bit, just take a single or a two and get it closer. Nope, it is Stokes misses his length and I hit time, and that is precisely what happened, with Brathwaite smoking the ball over long-off this time.
Ball four (West Indies need 1 from 3 balls): With the match done, the only question was would it be finished off with a single, four or a six. Well, there shouldn't have been any doubt really, as Brathwaite waits again before smashing the ball over long-on to win the West Indies the match in ridiculous style.